A 30m length of strong rope with five to 10 paired lines of visible streamers attached; that's all it takes to make a 'scare line', instrumental in the dramatic decline of seabird mortality through trawl fishing off our coasts.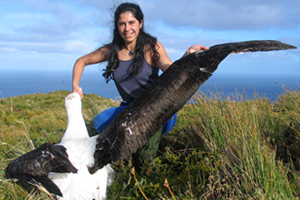 Researcher Andrea Angel with a Tristan albatross on Gough Island during a study of the species' sex- and age-related changes in wing patterns. These get whiter with age, with the males becoming more white, earlier.
Seabirds, especially albatrosses and petrels, are drawn in their thousands by the offal discarded from onboard processing factories. While they're scavenging, they become tangled in the thick cables holding trawler nets in place, and drown.
A seven-year research project, recently published in the international scientific journal Animal Conservation, has shown a 90% reduction in seabird deaths and a 99% reduction in albatross deaths since 2006, using 'scare lines' - a 30m length of strong rope with five to 10 paired lines of visible streamers attached.
These scare lines work by distracting and confusing the birds, keeping them away from the trawl cables.
Accidental deaths
Accidental seabird deaths during fishing pose the single biggest threat to these populations, says the co-author of the paper, Dr Ross Wanless, seabird division manager and the Africa co-ordinator of the BirdLife International Marine Programme. (Wanless is also a UCT research associate and alumnus.)
As a result of fishing, fifteen of the 22 albatross species off our coasts are under extreme threat of extinction, along with many other seabird species.
Research showed that annually some 10 000 seabirds were being killed accidentally by the trawl fishery, 70% of which were albatrosses. (Globally, 300 000 seabirds, including 100 000 albatrosses, are lost in this way each year.)
Scare lines mandatory
Scare lines are based on the 'tori line', invented by a Japanese long-line tuna fisheries captain. While these weren't successful for tuna fishing, scare lines have proved to be very effective for the trawl industry. They're now mandatory for the South African fisheries industry. The scare line is tied to the back of the moving trawler and a road cone (traffic cone) at the seaward end provides drag that tensions the line and keeps it aloft behind the vessel, usually parallel with the trawl cables.
They've become part of everyday life at sea, and are testimony to the importance of stakeholder relationship-building.
Partnerships
"We've worked closely with the hake fishery since the early 2000s to demonstrate that avoiding seabird by-catch is good for business and for the environment," says Bronwyn Maree, Albatross Task Force leader for BirdLife SA.
In 2004 the hake trawl fishery became the first fishery in Africa to obtain Marine Stewardship Certification. This ensures fished stocks remain stable and healthy, that ecosystem-wide impacts are minimised, and that there is continued monitoring of - and compliance with - prescribed fishing regulations.
"As a condition of certification, the fishery had to assess the risk of seabird by-catch," says Wanless. The road was long - and not without bumps; but in the end, the trawl industry didn't want to be seen to be damaging the environment.
"Everyone - from the deck hands, to the skippers, to the CEOs - bought into the idea," says Wanless.
It's a good-news story all round, not just for its happy ending. Sponsored by Total South Africa, the scare lines are built in collaboration with the Ocean View Association for Persons with Disabilities, and provide an income to people such as Aubrey, a former fisherman who came to the centre after an accident put him out of work.
"Conservation success stories are hard to find," says Wanless. "Rarely are they the result of simple, elegant solutions that are truly win-win."
Story by Helen Swingler. Photos courtesy of Dr Ross Wanless and Andrea Angel.
---
This work is licensed under a Creative Commons Attribution-NoDerivatives 4.0 International License.
Please view the republishing articles page for more information.
---