At the UCT Graduate School of Business graduation on Friday 13 June 2014, public protector of South Africa and one of TIME magazine's 100 most influential people of 2014, Advocate Thuli Madonsela urged graduands to meet the challenges of unemployment, poverty and inequality faced in South Africa; to see opportunity in uncertainty; and to stay the course when times are tough.
Deputy Vice-Chancellor Professor Crain Soudien opened the morning's ceremony with an informal welcome, recognising the students for which it is held: 'The heart of the ceremony, and I don't mean any disrespect to our students here when I say this, is when they have their 14 seconds on the platform ' It'll feel like a lifetime for you. And it really is '" I hope you experience it like that.'
While giving graduands a brief history and background to some of the traditions involved in the occasion, he also encouraged them to make the moment their own: 'This is a formal occasion in which we are honouring graduands ' But I would like to say to you that we don't want this to be a stuffy affair. Formal as it is, we'd like you to feel that this is also your celebration. And so, as the celebration unfolds, we would like to think that you are going to participate in it as heartily as you want.'
After the formal procession of academic staff to Gaudeamus Igitur and the singing of the national anthem, SRC labour and services coordinator Ramabina Mehapa read the university dedication:
'At this time of celebration, we the members of the University of Cape Town, reaffirm our mission to nurture rational and creative thought and free enquiry, to strive for excellence in teaching and research, to educate for life, and to address the challenges of our society. We undertake to advance these ideals in the spirit of freedom and responsibility, and through consultation and debate. We celebrate our founders, benefactors and predecessors, those who have built the fabric and nurtured the values of UCT. To those of you who will graduate today, we wish courage, wisdom and purpose. To those who will leave the university to learn and to work elsewhere, may you be sustained by those values which unite us here today, and advance them in the world beyond: a love of truth, and of learning, and of this, our university.'
His dedication closed to the sounds of celebration: Three opera students from the South African College of Music (Levy Sekgapane, Makudupanyane Senaoana and Xolani Madalane) gave a moving rendition of Capurro's O Sole Mio '" an apt tribute at the blue-sky end to a cold and rainy week '" before Soudien returned to stage.
The prospect of UCT graduands
In the formal welcome, Soudien reflected on the building in which graduation takes place every year: Jameson Hall, and the outlook it affords students: 'The building in which we find ourselves, Jameson Hall, is a focal point of the university, and it is entirely right that we are holding our graduation ceremony here. The construction of this building was completed in 1931, and it first came into use properly in 1932. The university had only two years earlier, in 1929, moved onto this site. Howard Philips, one of UCT's historians, says that the unfinished new campus attracted mixed comment. The artist Gwelo Goodman said it looked like '˜a glorified factory with a grand façade to a football ground'. A columnist at the Cape Argus thought otherwise and suggested that '˜The sheer massiveness and dignity of the building will allow UCT to take high rank among similar institutions, while the view obtainable from that incomparable site is one that any university in the world might envy.' The columnist went on to say, using the ideal of a view which the location of the campus offered, that he ' hoped that '˜breadth of vision and of judgement ought to be the heritage of every student'.
'Eighty-four years later, I hope the education that you graduands have received at UCT has left that mark of breadth of vision and judgement on you. Breadth of vision and of judgement, in the global circumstances in which we find ourselves, in our own country, are deeply critical attributes we should be looking for in each other ' I hope you feel that we send you off into the wider world with a distinctly broader and deeper understandings of yourselves, your professions and the society in which you find yourself.'
By way of introduction to Advocate Thuli Madonsela, the event's keynote speaker, Soudien reflected on her integrity and 'fearless commitment to the principles of fairness and justice'.
'In a time and space in which we regularly see political loyalty taking precedence over truth and public interest, she has helped us come to a better understanding of how all of us, who are in positions of influence and authority, ought to be conducting ourselves.'
Seeing opportunity in uncertainty
Advocate Thuli Madonsela then took to the podium, starting with a personal reflection on what graduation means to the families of graduands: 'One of the most beautiful things about graduation is the proud and content look you see on the faces of parents and grandparents. For them their finest hour will always be hearing your name being called and watching you as you gracefully walk on the stage. All they ever yearned for was this moment. It was not your first cheque, it was the satisfaction of a job well done by them as parents in giving you an education.'
During her speech, which covered the roots of innovation, the importance of education, and an exhortation to students to 'make your change', she spoke of the challenges that lie ahead.
'To the graduands: this is both an exciting time and a scary time. Some of you are stepping into a new, unknown world.'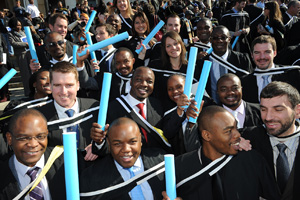 She encouraged them to find inspiration in the story of a student 'from this university and this very faculty' who became a household name a few years ago: Ludwick Marishane, the inventor of the DryBath, a hygienic product that cleans you without need for water.
'Looking at you this morning, I see a lot of inspirational stories in the process of being written. To those of you who don't know what the future holds for you, remember that great moments are born from challenging occasions.'
'Your country needs your brains and innovation'
Madonsela spoke of the challenges that face South Africa right now, and the role graduands can play in bridging divides: 'I've been told that this is the business school, and therefore, the people who are graduating today are graduating with business skills. What a great coincidence! You graduate at a time when many economists forecast a bleak economic outlook for our country. The World Bank this week revised South Africa's growth forecast for 2014 from 2.7 to 2%. This doesn't look like good news, particularly in a context where we're battling with jobs already, we're battling also with the problems of poverty and inequality.
'But that's where you come in. The industries in which you'll soon be taking your places form the bedrock of our economy. Your country needs your brains and innovation a lot more now. You are the ones we've been waiting for.
She also encouraged graduands not just to consider the private sector for their careers: 'Most of the times we sit there and blame someone for not doing things right. And most of us like blaming government, for not creating the necessary environment for a vibrant economy. Well, who is government? You are graduating today with skills and vision. How about taking those to the public sector? The public sector too needs visionaries, inventors and thought leaders to create sound policies and to ensure good governance. It's no use pointing fingers while sitting on the sidelines. You're either part of the problem or part of the solution.'
'Stay the course. Honour you dreams ' Your time will come.'
For those who overcame great odds to be at the university and complete their degrees, Madonsela had closing words of advice: 'You stand here today as equals. That's what education is. It is the great leveller of the playing field ' No matter what your background, through education, you can take your place among your peers and make your difference. Your future need not be determined by your background.
'Roses often bloom from concrete. Already the fact that you're here is a testimony that you've been able to overcome obstacles. You've bloomed from concrete likes roses ' I have no doubt in my mind that those of you who are graduating today are going to make a difference in the world for generations to come. You will be planted into the unknown with many uncertainties. Some of the success will not come overnight, but the important thing is that you don't comprise ' Even if success doesn't come instantly, stay the course. Honour you dreams and your principles. Your time will come.
'We learnt from our late president Nelson Mandela that, after climbing a great hill, one only finds that there are many more hills to climb. He also said, '˜It always seems impossible until it's done.'
'Turn whatever track you get onto into a springboard for success. Something must burn for light to be given. The stars shine because they burn.'
Vice-Chancellor Dr Max Price gave the vote of thanks for Madonsela's message of hope before hooding many hundreds of MBA and PDMA students, each of whom enjoyed their 14 seconds of fame on the platform.
Watch June 2014's graduation ceremonies and Advocate Thuli Madonsela's address
Story by Judith Browne. Image by Michael Hammond.
---
This work is licensed under a Creative Commons Attribution-NoDerivatives 4.0 International License.
Please view the republishing articles page for more information.
---