UCT is debating its admissions policy for 2016 and beyond '" the crux of which concerns whether race is a good proxy for disadvantage, or whether a more nuanced index of disadvantage is required. Vice-Chancellor Dr Max Price explains what is being proposed and how it differs from the current model.
Transformation '" centred on values of redress, diversity, inclusiveness and the recognition of African voices '" is an explicit component of UCT's strategic plan. This commitment to transformation has specific components that speak to the demography of the student body. Specifically, the university aims to have "the full diversity of South Africa represented at UCT, weighted towards the disadvantaged communities of the Western Cape".
UCT feels this is important '" firstly, as a way to redress apartheid injustices; and secondly, because the university feels it is necessary "to create the critical diversity of perspectives that will produce new insights and a healthier education environment, promote inclusiveness within the university, and prepare students for a multicultural world of work".
The admissions policy is one mechanism the university uses to ensure this diversity among the student body, and the current admissions policy has helped ensure greater racial diversity on campus. But the university aspires also to socio-economic diversity: it feels it would be doing better in terms of redress and equal opportunity, if it could recruit the most talented but disadvantaged students.
How does the current admissions process work?
UCT's current admissions policy is based on the principle that talent is randomly distributed in the population, regardless of race, class, gender or other demographic variables '" but that it wishes to acknowledge and redress the great disadvantage at which many people were placed based on their race, as defined by the apartheid government. It uses race as a measure of this disadvantage.
How it works is that the university first sets aspirational targets for each population group in each programme. Targets are adjusted each year based on two considerations: the pool of applicants with the appropriate results in the appropriate subjects for a particular programme, and the university's aspiration to increasingly reflect the demography of the Western Cape and South Africa.
The university then starts to make applicants offers for the limited number of places at UCT, in order to meet these targets, by placing students in separate baskets according to their legacy apartheid population group (black, white, Indian or coloured), ranking them academically within their own group, and selecting the top few percent from each list '" depending on the number of places targeted for each group.
How is the proposed admissions policy different?
Changes to the proposed admissions policy centre on the debate about whether race is still a good proxy for disadvantage in South Africa or not; and as such, whether it's the best available basis for university policies of redress and transformation.
Circumstances in South Africa and at UCT are changing in four key ways:
Increasing numbers of black applicants, often from wealthy families, are coming out of excellent schools with very good National Senior Certificate (NSC) results '" and these students can get into UCT in the general open competitive pool.
The old apartheid correspondence of race and class has been shifting over the last 20 years. It's no longer accurate to assume that all black students are economically disadvantaged, nor that all economically disadvantaged students are black. UCT aspires not just to racial diversity, but also to greater socio-economic diversity '" in the interests of fairness, and equal opportunities '" and feels it would be doing better in terms of redress if it could recruit the most talented but disadvantaged students.
UCT, in line with the South African Constitution, aspires to a future non-racial society that does not always view the world through racial lenses. Apartheid's racial constructs were used to distribute power, to create divisions in society, to promote ethnic loyalties, and to signal superiority and inferiority. One of the main goals of the post-1994 South Africa is to transform society into one which does not privilege people or deny them opportunities on the basis of race. However, there's general support for the view that the path to that goal requires an interim period of redress, of conscious structuring of opportunities to undo apartheid's legacy of racial inequality. If we can achieve the racial diversity we aspire to for UCT, while moving away from a dependence on using race classification to do so, we believe this would be a positive contribution towards non-racialism.
Another concern is the current dependence on applicants self-identifying their 'race'. On principle, some students '" including disadvantaged students of colour '" do not want to declare their 'race' (even when they should rightly benefit from the redress policy). Other students wilfully misclassify themselves in relation to the old categories. Since there is no legislated way of classifying people, this puts UCT admissions officers in the untenable position of having to decide how such applicants should really be classified.
How would the proposed admissions policy work?
The application form would ask specific questions aimed at developing a disadvantage weighting for the applicant: details of the school they attended; their mother's, father's and grandparents' level of education; the applicant's preferred language; and their financial background.
How are answers to these questions markers of disadvantage? The school one goes to or can afford determines the quality of education one receives, and how prepared one is for tertiary study. The level of education an applicant's parents or grandparents achieved is not only a marker of their level of disadvantage under apartheid (where educational opportunities were limited and predetermined for many groups), but also a good indicator of the kind of learning-related support available to a learner in her or his home. If one's home or preferred language is indigenous to South Africa and different to the language in which one is taught at school, the chances are that one will have more difficulty in the classroom. Finally, one's reliance on social grants and other financial support mechanisms is a good indicator of the kind of economic opportunities available to one.
Using answers to these questions, the university will then compute a disadvantage weight, which will be used to increase applicants' entry-level scores. Applicants will then be placed into three separate bands, from which university selections will be made.
What principles underpin the proposed policy?
The university has developed the following principles to guide this new policy:
The admissions policy should identify applicants with the highest potential, recognising that they may not have achieved the highest marks in the National Senior Certificate (NSC) or National Benchmark Tests (NBTs) due to the quality of the school they attended, other obstacles, or lack of enabling environments.
The policy should also enable UCT to attract the highest-performing students nationally, regardless of their race or degree of disadvantage.
The goals of redress and diversity in the first-year class should not be relaxed; that is, a change to UCT's admissions system should not reduce the number of black and coloured students compared with the current situation.
The first-year class should reflect a wider diversity of social-class background by increasing the proportion of first-generation university students, students from poor schools, and those from poorer households. Such diversity should span all races.
Students selected should have a high probability of graduating, given the necessary support and extended programmes where necessary.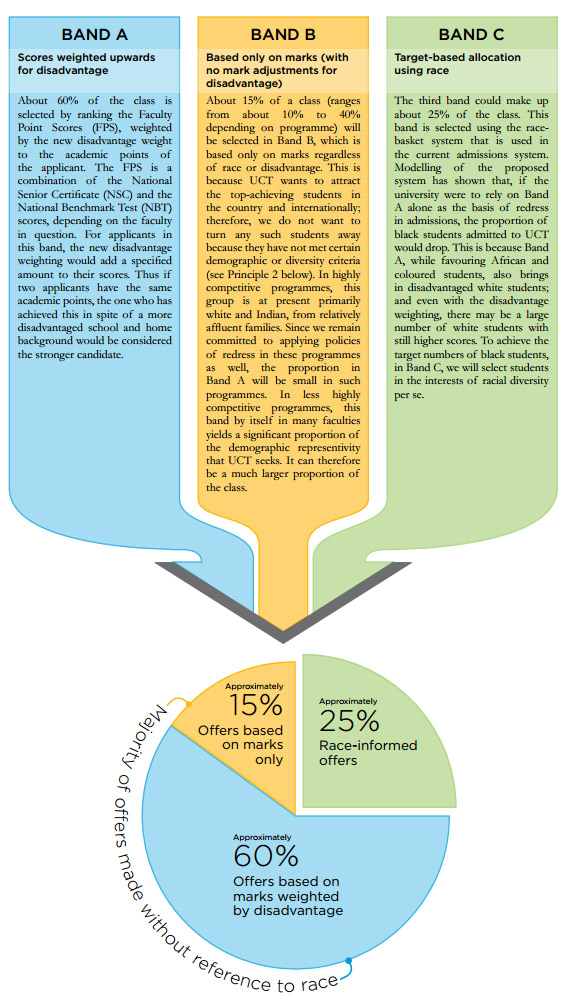 Read more:
An admissions policy to expand diversity
FAQs: student admissions policy
Monday Monthly's student admissions focus
Full text of VC's April 2014 student admissions proposal
---
This work is licensed under a Creative Commons Attribution-NoDerivatives 4.0 International License.
Please view the republishing articles page for more information.
---