UCT sociologist Amrita Pande on commercial surrogacy in India
Tens of thousands of the poorest women in India sell their wombs in the fastest-growing market for commercial surrogacy in the world, living in dormitories, under contracts that include consent to any birth procedure or medical intervention. However, the women in these 'baby factories' are not simply passive victims, according to research by Dr Amrita Pande from the Sociology Department.
Pande equates the commercial surrogates to factory workers in China and Bangladesh. They live in dormitories during their pregnancy, where they are disciplined by a raft of rules enshrined in a contract they sign at the start of the process. As part of the contract, they give consent to any birth procedure and to selective abortion.
However, the surrogates, are terrified at the thought of a caesarian section, says Pande, who has spent years in the field talking to and living with the surrogates as part of her research.
"This was the first time in hospital for almost all the women," she says. "They were nervous of any medical procedure, even injections. Their own childbirths had been at home, with a midwife or a relative in attendance."
Nevertheless, all but one of the women Pande studied gave birth through caesarian section. Pande believes this is for several reasons: firstly, "...the doctors feel that the child is very precious; the women are often anaemic and generally not in the best of health". Further, the doctors believe that surrogates are less likely to become attached to their babies if they give birth through caesarian section. Lastly, and perhaps most importantly, having a set date is convenient for the client.
Booming market
The US$2.3-billion market for commercial surrogacy is growing exponentially in India: second only to the US, and the largest in the Global South. There are currently around 30 000 infertility clinics in India, of which 3 000 are registered and offer surrogacy.
What is common to all the countries served by these clinics is that they do not allow commercial surrogacy, which makes surrogacy a rare option for infertile couples. In India, however, commercial surrogacy is not only legal but flourishing, with very few formal regulations. It operates as an open market, in which clinics and clients determine the price and treatment of the surrogate.
Feeding this exploding market is difficult, because the concept of surrogacy is new and highly stigmatised, says Pande.
"Most Indians equate surrogacy with sex work: Bollywood has contributed to this misperception by depicting surrogates as former sex workers in every one of the three movies in which surrogates appear," she explains.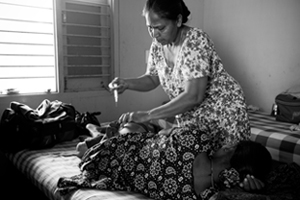 Recruitment programmes
Clinics therefore have to actively recruit surrogates by sending brokers into villages and cities, where they draw on the poorest women in India. The average price a surrogate is paid is low (between US$4 000 and US$7 000, a quarter of the price anywhere else in the world); nevertheless, almost all the surrogates Pande studied were in informal employment, and earned so little that the price they were paid for surrogacy equated to three to five years of their normal earnings.
Pande initially viewed her research through a radical feminist lens, in terms of which she saw the surrogates as passive patients in a 'baby farm'. However, living in the surrogacy hostels, she saw and experienced a camaraderie among the women and found that they were challenging attempts at control in unexpected ways.
'Dormant unions'
There were many examples of individual resistance; but Pande also saw the women coming together to form what she describes as 'dormant unions', in which they would share grievances and make collective demands.
As a result, changes were made to the surrogacy process. For instance, women who were initially given computer training and education while pregnant lobbied for, and received, training as beauticians – a skill better suited to life outside the hostel.
This is therefore not a simplistic story in which the surrogates are passive victims of commercialised childbirth. However, Pande notes that none of the women 'won'. They were not paid a fair wage for their labour, yet their lives of poverty were such that they were prepared to undergo an invasive and potentially life-threatening procedure. Many of them submitted to the process more than once.
So what should be done? Pande argues against an outright ban, instead advocating an international model of 'fair trade surrogacy' founded on openness and transparency on three fronts: the medical process; the payments; and the relationships forged within surrogacy.
Dr Amrita Pande is a senior lecturer in Sociology at the University of Cape Town. Her research will be published later this year as Wombs in Labour: Transnational Commercial Surrogacy in India by Columbia University Press in the USA and Open University Press in India.
"We were told that if anything happens to the child it's not our responsibility; but if anything happens to me, we can't hold anyone responsible. I think the contract says that we will have to give up the child immediately after the delivery – we won't even look at it. Black or white, normal or deformed, we have to give it away."
Salma, a surrogate for a couple from Los Angeles
"The child is most important, not our bodies. But I cannot complain. Nature gave me a healthy body. I decided to let others cut it apart."
Ramya, surrogate mother
"What really helped us take this decision was that we knew our surrogate wouldn't spend the money for drugs or a flat-screen TV. She would be using it to feed her family, build her own house. I am not religious, but this seemed almost like god's work, call it a worthy cause ... a mission."
Judy, an intended mother from the US, on hiring a surrogate in India
"To convince the women, I often explain to them that it's like renting a house for a year. We want to rent your womb for a year, and Doctor Madam will get you money in return. I tell them surrogacy is not immoral. It is much better than a woman going from one man's bed to the next to make money."
Vimla, surrogacy broker
A dramatic outcome
There can't be many sociologists who present their academic work as a piece of theatre, but that is exactly what the Department of Sociology's Dr Amrita Pande has been doing in Europe – with huge success.
Pande, who is also a performer and educator in theatre production, was approached by Danish producer and director Ditte Bjerg, who was interested in her research and wanted help in developing it into a script. However, after the producer discovered that Pande used to act, they worked together to turn her work into an interactive performance, featuring Pande herself.
The first performance was at the German Sociological Association in 2010, but since then Pande has played to ordinary theatregoers in Denmark and in 14 Swedish cities, garnering considerable media attention.
Pande is now working on an English-only version to be presented in Copenhagen in June this year, after which she hopes to perform it at the American Sociological Association conference in 2015.
Story by Carolyn Newton. Photos by Miriam Hinman Nielsen.
---
This work is licensed under a Creative Commons Attribution-NoDerivatives 4.0 International License.
Please view the republishing articles page for more information.
---