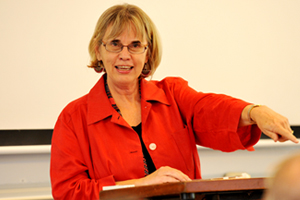 Lyrical adieu:
A valedictory poetry reading by Professor Ingrid Fiske, also known as the poet Ingrid de Kok, was hosted by the Institute for Humanities in Africa to mark her early retirement this month. Fiske read from 26 of her works (one for each of her years at UCT), written between 1989 and 2014; poems about the Truth and Reconciliation Commission, love, family, and her new research on foundlings. Her career included 24 years at the Centre for Extra-Mural Studies - initially in the Humanities Faculty and later in the Centre for Higher Education Development - and two as a lecturer in the English department. Attendees included colleagues, former colleagues, family, and friends.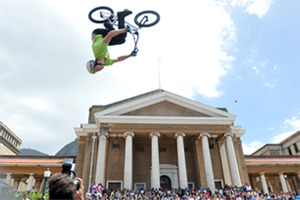 Life cycle:
Students and staff were greeted by a flock of flying bicycles on Jammie Plaza recently. This year's traditional Thursday Meridian events flipped off in spectacular style on 20 February as the Students' Representative Council and beverage company Mountain Dew teamed up to entertain masses of students with a feast of extreme sports. Daring skateboarders and stunt riders wowed a packed crowd with all manner of thrills (and fortunately, no spills). It was all for a good cause, of course: the proceeds of the sponsored event went to the SRC bailout fund for students struggling to settle their tuition fees.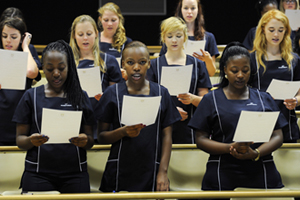 Change agents:
Second-year physiotherapy students took a professional oath last month before starting clinical practice. They committed to upholding the strictest standards in the services they offer, and were reminded to respect their clients in all circumstances and adhere to a professional code of conduct at all times. Before receiving their name badges, these students were encouraged to see themselves as agents of change, responsible for promoting health literacy and providing accessible health care to the wider population.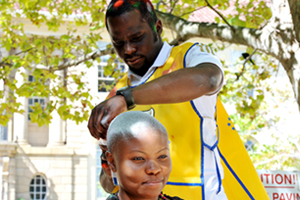 Spray it on:
Lerato Majara had her hair sprayed in the Barnard Fuller courtyard earlier this month, as part of the UCT Shavathon in support of the Cancer Association of South Africa (CANSA). Majara and about 170 other UCT staff and students participated in this event, the fourth of its kind hosted on the medical campus. The Shavathon, which is jointly organised by the UCT branch of the South African Medical Students Association and the Prince Lab - a CANSA-funded research facility - raised almost R5 000 this year, which will go towards cancer research and awareness campaigns.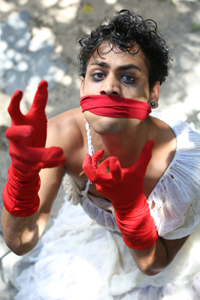 Theatrical feast:
Two dynamic productions will take to the stage at the Little Theatre Complex at the beginning of April. Mephisto, directed by Christopher Weare, is set in Nazi Germany and tells the story of a group of actors' reaction to Hitler's rise to power. Titus Andronicus, described as Shakespeare's bloodiest and most violent work, sees Geoffrey Hyland and Jeffrey Sichel sharing directorial duties. Kiroshan Naidoo (pictured) plays the role of Lavinia, Titus's daughter, who is raped and mutilated by men seeking revenge upon her father. Sichel is a visiting Mellon Scholar, who describes his South African students as "remarkably open and mature, allowing for deep levels of engagement".
---
This work is licensed under a Creative Commons Attribution-NoDerivatives 4.0 International License.
Please view the republishing articles page for more information.
---