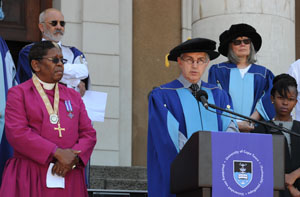 We will remember: The UCT community gathered on Friday 6 December to reflect on the life of former President Nelson Mandela, who died on 5 December.
UCT has proposed that Ring Road, which symbolically embraces its upper campus, be renamed The Madiba Circle in memory of former President Nelson Mandela, who died on 5 December.
The announcement was made by Vice-Chancellor Dr Max Price who said that the name, if approved by the Mandela family, would be reflected in the country's official languages.
Price was speaking at a gathering for the UCT community on 6 December, where he lauded Mandela's contribution to the country − and to education.
The proceedings were led by Chair of Council Archbishop Njongonkulu Ndungane who was also joined by Chair of Convocation Mary Burton, and the new Students' Representative Council president for 2013/14, Nommangaliso Gondwe.
Legacy in education
Gondwe quoted Mandela who said: "Education is the most powerful weapon which you can use to change the world."
The words were especially poignant as UCT celebrated "life well lived".
In the hiatus between the end of the academic year and the start of graduation on 11 December, the community gathered in the lee of Jameson Hall, where thousands of South African and international students have graduated; alumni who have gone on to change the world.
And many more will follow.
Madiba, too, passed this way, en route to UCT's historic Green Mile rugby fields where he received an honorary degree, Doctor of Laws (honoris causa), on 30 November, 1990. Jameson Hall was too small a venue for the many well-wishers who gathered that day to share the historic event. (The degree was awarded to Mandela while he was still in prison, but conferred 10 months after his release.)
Mandela visited Jameson Hall again in 2004 to deliver the 5th Steve Biko Lecture.
Shining light
"We are dumbfounded and at a loss," Ndungane said. "It is the end of an era of distinctive leadership that has served South Africa so well."
He said Mandela has been a "shining light in the dark misery of the long years of apartheid".
"We are humbled by his conviction that forgiveness can heal guilt and that reconciliation can open a bright new future.
"May he rest in peace and rise in glory."
Price said Madiba's death was a chance to "pause, think and look inside ourselves".
"Today we honour a man who gave his life for the country."
He said that although the world had been expecting Madiba's death, many felt empty, even after his prolonged exit.
"Our world has changed. We have lost the presence of his soul living among us. He is locked in our memories and our hearts and his legacy will be how we let our memories of him continue to lead us."
Despite imprisonment, Mandela had never stopped pursuing a degree, through Fort Hare, UNISA, Wits and the University of London. Price said Mandela's influence had shaped UCT, reflected in the standards he valued and in the stamp of his wife, UCT's Chancellor, Graça Machel.
Passion for law
Burton said it was fitting that Mandela's honorary doctorate had mirrored his passion for law and education, the cornerstones of the country's struggle for freedom and equality.
"It's remarkable that his comments [after receiving his honorary degree] are still so relevant 23 years later."
Addressing the gathering Gondwe said she did so from the "privileged position" as a student at UCT. She said students recognised Madiba's contribution to making the university accessible to all.
Over the next 10 days UCT will provide quiet public spaces on campus where the community and the public can pay their respects to Madiba by lighting candles or inscribing a memory book and fabric scroll.
(The university will support and participate in the national mourning period. The details will be made available on the website once these have been finalised. UCT will be closed on those days that are declared public holidays.)
Story by Helen Swingler. Image by Michael Hammond.
---
This work is licensed under a Creative Commons Attribution-NoDerivatives 4.0 International License.
Please view the republishing articles page for more information.
---