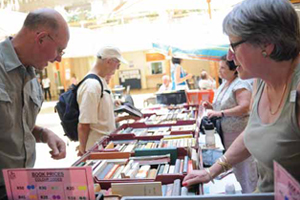 Book your spot: Summer Schoolers browse through bookstalls erected to enhance the experience at a previous instalment of the public education programme.
On 15 February 2013 an object exploded twenty-three kilometres above Chelyabinsk, releasing twenty times more energy than the atomic bomb that devastated Hiroshima. The shock wave arrived three minutes later, giving people enough time to rush to their windows, and resulted in 1 500 people being injured, mostly by flying glass.
Space agencies are taking the threat of an asteroid or comet striking the earth increasingly seriously. Should we be worried?
These fears will be allayed - or at least explained - during UCT's 64th annual Summer School, which is being held from 20 to 31 January next year.
If apocalyptic debates are not your pick for a breezy summer conversation, try a beginner's course in Mandarin, which will probably come in handy sooner or later. Or perhaps you are curious about 'the loss of the Left'; Dr Kenneth Hughes, formerly of the Department of Mathematics and Applied Mathematics, explores how Europe's 'party of progress' lost its way, deteriorating from a movement that dominated the late nineteenth century to one that, splintered by wars and handicapped by totalitarian regimes, has ceded ground to conservative ideologies in modern times.
If you've wondered about the role hip-hop has played in engaging South Africans creatively and politically and how debates about commercial co-option, race, gender and other identity politics have been taken up by local hip-hop artists, then the sort course by Associate Professor Adam Haupt might turn your head. Elsewhere on the roster, the seemingly perennial debate between science and religion takes a twist, with Professor Anwar Mall presenting arguments for their peaceful and productive coexistence, with science dealing with the 'how' of life and religion the meaning.
Along with a galaxy of other history, art, politics and science courses, the opportunities for personal enrichment abound; courses in basic drawing and creative fiction writing are also on offer, as is a lecture on the antikythera mechanism, a 2 000-year old computer.
Hosted by UCT's Centre for Open Learning (COL), Summer School is a public education programme open to all, regardless of formal qualifications. For more information on how to register for one - or more - of the dozens of courses, visit the summer school website or send an email.
Image by Raymond Botha.
---
This work is licensed under a Creative Commons Attribution-NoDerivatives 4.0 International License.
Please view the republishing articles page for more information.
---