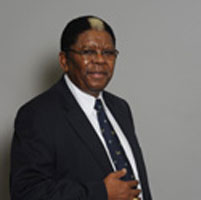 Today Archbishop Njongonkulu Ndungane chair of council, and former Anglican Archbishop of Cape Town, paid tribute to Madiba and joined millions of people in South Africa and all over the world in mourning the passing away of one of the greatest sons of the soil, Nelson Rolihlahla Mandela.
Today we join millions of people in South Africa and all over the world in mourning the passing away of one of the greatest sons of the soil, Nelson Rolihlahla Mandela. This is a very sad day indeed for South Africa. Whether it comes suddenly or with agonising slowness, death creates disruption and crisis in the life of everyone connected to it. We are dumbfounded and at a loss.
The passing away of Madiba marks the end of an era of such a distinctive calibre of leadership that has served our country so well with integrity and honour; a leadership that had a sense of purpose, and which espoused excellence in all it did. In the heavenly language which is isiXhosa, we are united in saying, Ngxatsho ke Gora lama Gora; Qhawe lama Qhawe, Msimbithi Womthonyama; Yem Yem obhuzubhuzu, ovela bembentsele, Thambodala kade be mqongqotha; Ubuqaqawuli Nozuku Lube Nawe Kuse Ephakadeni Lase Maphakadeni. Sitsho Ngamxhelo Mnye Sonke Xa Sisithi; Phumla Ngoxolo Nkonde Yezwekazi Lase Afrika; Umzamo omhle uwuzamile; ugqatso ulufezile.
While we lament the death of this great statesman we are nevertheless united in celebrating a life well lived. Here lies a man whose life was a shining light in the dark misery of the long years of apartheid:
a visionary in a land where visions were counted as threats.
a dreamer of a bright future among oppressors who held onto a despairing present with iron-clad fists.
a hero in the face of the power of little people, whom he did not despise because he understood them better than they knew themselves.
an optimist who believed in the goodness inherent in every person, unswerving in his confidence that goodness will out, right will triumph and justice prevail.
The world will be sadly empty without him for his choices and his commitments rewrote world history.
We stand in awe of this man who believed in the goodness of humankind in spite of its evil choices and most malevolent plans.
We are humbled by his conviction that truth is unassailable, that forgiveness can heal guilt and reconciliation open a new, bright future.
We are inspired by his faith in humanity, his trust in Ubuntu and his love for our land and all its people.
The world will be an abjectly poorer place without him, for his choices and commitments renewed the face of humanity.
When the Psalmist considered the history of his people, he sang: "The Lord chose David his servant: and took him from the sheepfolds to be the shepherd of his people Jacob and of Israel his own possession. So David tended them with upright heart and guided them with skilful hand." Nelson Mandela, Madiba, was another such a David. Chosen from the grazing fields of Qunu to be the one to shepherd the whole land and all its people into a new future, Madiba tended us with a heart moved by justice and filled with love. He guided us with hands that could both lead and challenge, guide and uphold and thus becoming the father of our Constitutional Democracy.
That, after 27 years of incarceration from such unimaginable depth of pain and suffering, he emerged as an apostle of reconciliation and forgiveness, taking South Africa to where she has never been before, is a testimony to the greatness of real goodness and the goodness of real greatness which he embodied. Apartheid produced immeasurable pain and humiliation in the lives of millions of people. In the life of Madiba however, this pain was transformed through a constantly reaffirmed commitment to resistance against a racist system and eventual political victory. As Ben Okri says 'The most authentic thing about us is our capacity to create, to overcome, to endure, to transform, to love and be greater than our suffering.' Madiba believed in a better South Africa for all; one in which everyone could achieve fulfilment and participate in producing a better country for our children than the one we inherited. The emphasis was on creating a culture of leadership that was driven by the value system he espoused - that leaders should focus themselves as servants of those they lead. Confident leadership comes from a great deal of practise and many humbling experiences.
His perceptive insights and ability to do what is right at the right time attests to his quality as a visionary leader. Who can forget that moment when he stepped into the field at Ellis Park during the Rugby World Cup wearing a number 6 jersey - a momentous event that warmed the hearts of many South Africans? Who can forget his embracing politically conservative Afrikaners in the interest of building up a common South Africa?
Dear friends, as we celebrate the life of Madiba our icon, let us strive to maintain and sustain his legacy: One Nation, One South Africa through the promotion of the common good, tolerance, respect for the dignity of the other, the deepening of democracy through diligent observance of the checks and balances embedded in the Constitution such as the Bill of Rights, Freedom of Expression, and the Independence of the Judiciary. Remember Reinhold Neibhur's wise words: '˜Man's capacity for justice makes democracy possible; man's inclination to injustice makes democracy necessary.
It takes a village to raise a child. It takes all of South Africa's children to continue the unfinished work which the father of our constitutional democracy initiated. Let me end with an isiPedi proverb "Life is a message - listen to it. Life is a belief - trust it. Life is a gift - accept it. Life is love - think about it. Life is an adventure - dare it." May he rest in peace and rise to Glory.
---
This work is licensed under a Creative Commons Attribution-NoDerivatives 4.0 International License.
Please view the republishing articles page for more information.
---