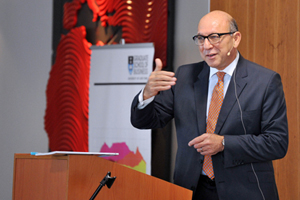 Planning ahead: Trevor Manuel, minister in the presidency and chair of the national planning commission, highlighted five "wicked" problems faced by South Africans and suggested that collaborative innovation, not mimicry, would go a long way to solving these problems.
Creativity and the coming together of different skills sets are what are needed to take on the "wicked" problems facing South African's today.
This is the conclusion Trevor Manuel, minister in the presidency, came to after considering how complex societal (or so-called wicked) problems should be tackled. Manuel was the keynote speaker at the 2013 Business and Environmental Innovation Conference (BSEI) held recently at the Graduate School of Business.
The conference, titled Co-innovation to address wicked problems, brought together academics and business leaders hoping to address these problems through innovations that are complementary, coordinated and collaborative.
Climate change, food insecurity and poverty were amongst the subjects discussed at the conference. In his speech Manuel listed five additional "wicked" problems, which he maintains not only South Africa, but the rest of the African continent grapples with.
Referring to the "housing gap market" '" those South African's who earn too much to qualify for state housing, but not enough to afford a mortgage '" Manuel said: "It is not possible to build a stable democracy that is inclusive and responds to the requirements of our constitution, when virtually every organised worker is excluded from housing. There has to be something fundamentally wrong with this. Unless we apply our minds creatively to resolving this problem, we are sitting on a powder keg."
He went on to say that together these five problems, which were drawn from the National Development Plan, "cast a long shadow over the future. If we solve them, we can bring a lot more sunshine to the lives of future generations".
Manuel lambasted South Africans for not taking development seriously, not innovating, and for mimicking "what we think is the United States, but which doesn't exist for the majority of those living in that country".
Modifying a quote by famous New Zealand physicist, Ernest Rutherford, Manuel's call to action was, "Ladies and gentleman, we've run out of money, land, water, space and our young have run out of patience, we now have to think."
Story by Abigail Calata. Image by Raymond Botha.
---
This work is licensed under a Creative Commons Attribution-NoDerivatives 4.0 International License.
Please view the republishing articles page for more information.
---