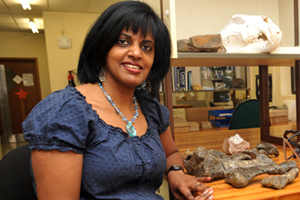 Science for the people: Palaeobiologist Prof Anusuya Chinsamy-Turan has received The World Academy of Science Sub-Saharan Africa Regional Prize for the Public Understanding and Popularisation of Science.
Head of the Department of Biological Sciences, palaeobiologist Professor Anusuya Chinsamy-Turan, has received a top honour for popularising science in sub-Saharan Africa.
She has won the World Academy of Science (TWAS) Sub-Saharan Africa Regional Prize for the Public Understanding and Popularisation of Science, one of five researchers from different regions of the developing world to win TWAS awards. Her co-winners are from Argentina, Bangladesh, the Philippines, and Egypt.
Chinsamy-Turan received the prize at the African Academy of Science (AAS) gathering of international scientists in Nairobi on 13 November. AAS hosts the TWAS Regional Office for Sub-Saharan Africa.
Speaking at the event, AAS executive director Professor Berhanu Abegaz said the award was proof that the region could produce world-class scientists in all fields of science and served as an inspiration to young African scientists.
Besides authoring two academic books, Chinsamy-Turan has written several popular science articles and a popular children's book, Famous Dinosaurs of Africa, and has given numerous talks to raise awareness of science.
She also served as the chair of the advisory board of Scifest Africa, the continent's biggest science festival, and is a member of the advisory board of the Cape Town Science Centre.
Both her research and her efforts in communicating science to the public were celebrated by the South African Woman of the Year Award in 2005. She has also served as the director of the Iziko Museum's Natural History Collections.
A TWAS fellow since 2009, Chinsamy-Turan is a UCT Fellow and a fellow of the Royal Society of South Africa. In 2012 she shared her research on the extraction of biological information from fossil bones at the TWAS General Meeting in Tianjin, China.
Staff reporter. Image by Raymond Botha.
---
This work is licensed under a Creative Commons Attribution-NoDerivatives 4.0 International License.
Please view the republishing articles page for more information.
---