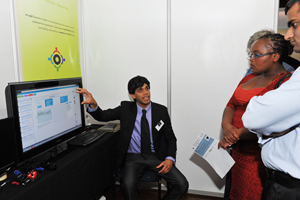 Innovative systems: Shiraz Amod demonstrates the benefits of the software programme he and three fellow information systems students developed to manage and ensure employee well-being.
It is every shopper's dream to easily locate and retrieve a shopping receipt when an appliance under warranty breaks down at the most inconvenient time.
This dream could become reality if a prototype, developed by information systems honours students and presented at UCT's 2013 IS Expo, is developed further so consumers have an online portal to which retailers' receipts are automatically sent from the point of sale.
Digital Generation, one of the teams of third-year and honours students who showcased their projects at this year's expo, aims to eradicate the need for paper receipts. The team's four honours students partnered with Makro because of its customer card system, which meant that the retailer had a customer database.
Their software not only makes paper receipts obsolete, but also gives the retailer an opportunity to customise promotions according to a customer's spending pattern, which is recorded and processed by the system.
Ishe Madzime of Digital Generation is confident that their concept could be tailored to suit other large retailers like Pick n Pay and Clicks. "We would just need data to uniquely identify each customer, and this could be obtained through loyalty schemes like Pick n Pay's Smart Shopper card."
The premise that 'Big Brother is watching you' was taken to another level by the Fo(u)r Slaves team and their program to manage employee well-being, while at the same time providing an innovative tool for internal communications. They worked in tandem with Open Box Software to create the me@OpenBox system, which monitors activities and learns the routines for individuals, teams and projects. A typical project would entail the development and maintenance of software and involve a project manager, who is required to manage the various teams working on the project. As soon as the system registers a statistically significant change in a team, project or individual, the manager is informed. "The system proactively manages issues before they become problems, but it also highlights good performance so that praise can be given where it is due," explains Shiraz Amod, one of the Fo(u)r Slaves.
Fo(u)r Slaves were rewarded for their efforts, winning the prize for the best project among the honours students.
Pharmacists will no longer have to decipher doctors' scribbles if team Warp, a group of third-years, has anything to do with it. They've developed DigiScript, which is software that enables medical practitioners to write their scripts, as well as capture patients' data electronically. It will also save the customer time at the pharmacy because instead of waiting while their details are captured by the pharmacist, all their information will be available at the push of a button.
This year, for the first time, the IS Expo was organised in collaboration with UCT's Careers Services. Expo organiser Maureen Tanner maintains that "the aim of these projects is to expose students to the rigours of developing information systems and managing projects that offer unique software solutions to real-life business problems."
Story by Abigail Calata.
---
This work is licensed under a Creative Commons Attribution-NoDerivatives 4.0 International License.
Please view the republishing articles page for more information.
---