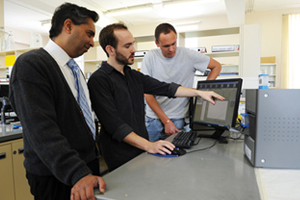 TB fight back: Dr Grant Theron (middle), lead study author, and Richard Meldau (far right), co-author, together with Professor Keertan Dheda, demonstrate the workings of the Gene Xpert TB machine.
People in TB hotspots across the country might benefit from the availability of a TB diagnostic machine at their local clinic if recommendations from a study by UCT researchers are accepted by health minister Dr Aaron Motsaoledi's department.
The study, for the first time, assessed the viability of the Gene Xpert machine outside a lab, i.e. in a clinic, where it would be operated by a minimally trained healthcare worker, usually a nurse. Most of these diagnostic machines operational in South Africa at the moment are found in central laboratories.
The study found that having the machine in the clinic doubled the same-day diagnostic rate, increased the number of patients starting same-day treatment by 50%, and effectively halved the drop-out rate (confirmed cases that don't return to initiate treatment), compared to conventional TB diagnostics.
The Gene Xpert machine, endorsed by the World Health Organisation, detects multi-drug-resistant TB, which according to study leader Professor Keertan Dheda, is particularly useful, "Drug-resistant TB comprises less than 3% of the total burden of the disease, yet the treatment of these patients consumes approximately 45% of the total national budget for TB treatment - over R1.2 billion."
TB is the most common cause of death in South Africa. It reduces the GDP by approximately 5% per annum. The study, which was conducted in five primary healthcare facilities in four African countries, including South Africa, was recently published in the prestigious medical journal The Lancet.
"While Xpert may not be the ideal point-of-care TB test in poorly resourced settings, in countries like South Africa where the clinic infrastructure is relatively good, and rates of drug-resistant TB and drop-out are high, placement of Xpert in selected TB hotspots, including clinics and prisons, might be appropriate and enable earlier diagnosis of drug-resistant TB, thus propably reducing community-based transmission," adds Dheda.
Globally, TB diagnosis still relies predominantly on the century-old combination of sputum microscopy (looking for the TB bacilli under a microscope) and chest x-rays - a system which misses 40 to 60% of cases. Furthermore, the treatment drop-out rate in some South African clinics is as high as 40%, which means that two out of five TB patients never return for treatment.
"Earlier diagnosis, however, did not translate to reduced severity of the illness down the line," reveals Dheda. Moreover, the total number of patients treated remained the same six months after diagnosis.
Since its introduction in 2011, no fewer than 279 Gene Xpert machines have been deployed in South Africa.
Popo Maja, head of communication at the Department of Health, says his department will study the findings and consult widely to determine whether it is necessary to place machines in clinics in key areas. "We are committed to easy and faster diagnoses, and therefore in principle we support any efforts to facilitate the faster diagnosis of TB."
Story by Abigail Calata.
---
This work is licensed under a Creative Commons Attribution-NoDerivatives 4.0 International License.
Please view the republishing articles page for more information.
---