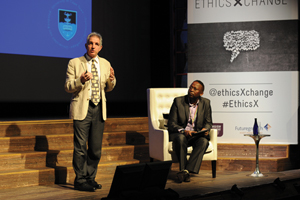 Public platform: Vice-Chancellor Max Price speaks about ethical behaviour with television presenter and journalist, Bongani Bingwa.
Can ethical behaviour be taught? Yes, says, Dr Max Price, UCT's Vice-Chancellor, but this is not necessarily the responsibility of universities.
Price was sharing insights and evidence at the recent EthicsXchange which was organised by asset management firm Futuregrowth and business academy ASISA.
The event is a self-described platform for opinion-makers to shake up thinking about ethical questions. "If you know something, you can teach it," began Price, quoting the Greek philosopher Socrates. "If you know what is good and bad behaviour, you can demonstrate it, you can teach it."
But the answer was rather more complex than a "simple yes", argued Price. "Of course, the answer is yes if you think about ethics as these very simple guidelines or principles."
This, said Price, could be taught by parents, read in books and on the internet, and was not the sole responsibility of the university to teach.
"[Ethical issues] are context-specific, they are culture-specific and there are contradictory outcomes based on different codes and principles, so what we are really inclined to teach is moral reasoning. I would argue that this is an area where universities can play a role, because this is about not reading a code, but this is about learning new skills, about arguing, debating, positing something, rebutting it. "I would argue that every graduate of a university should be exposed to a course in moral ethics or moral reasoning so that when they graduate, they are better equipped for the world of work.
"But the real question is: can we teach ethical behaviour? Can we expect the knowledge of what is appropriate behaviour to translate into ethical action?
"The research results are conflicting. For example, there is research into medical doctors which shows that their confidence in dealing with ethical dilemmas and their ability to make appropriate decisions is indeed influenced by having been through ethical education. But in the field of business ethics, unfortunately, far less evidence. Levin concluded in the 1990s that ethics courses are 'useless and unable to help classes full of MBAs see that there is more to life than money, power and self-interest'."
Price referred to a number of other studies to conclude that "the empirical research, unfortunately, does not support the view that you can generally teach people to behave ethically".
"So what can universities do and what should we do?
"Universities have an unusual opportunity because we provide a sort of total-institution environment for our students almost 24/7 for about four years, and that means that students live in the university, and if we can role-model ethical behaviour in everything they see around them in the residences, in the lecture theatres, in exams, in the research that is done, we believe and hope that we can influence the values that they abide by and how they behave.
"Really, the university's most important role, I think, is to elevate an individual's sense that ideas matter, that thinking matters and that the process of reflection is important for the outcome of their moral decisions."
In addition to Price, the event called on leaders from various sectors of society to explore the ways we view ethics in everyday life, including former UCT Council member Rhoda Kadalie, leading UCT scientist Professor Tim Noakes, clinical and forensic psychologist Dr Giada Del Fabbro, and former Bafana Bafana captain Lucas Radebe.
Noakes used examples from the medical science arena to argue that when "groupthink" – the Orwellian tendency to ostracise ideas that go against the popular grain – caused harm to patients that, say, received poor advice from their doctors, it could be said to be unethical. The discussion was chaired by Bongani Bingwa, a local television presenter and journalist.
Story by Yusuf Omar. Image by Michael Hammond.
---
This work is licensed under a Creative Commons Attribution-NoDerivatives 4.0 International License.
Please view the republishing articles page for more information.
---