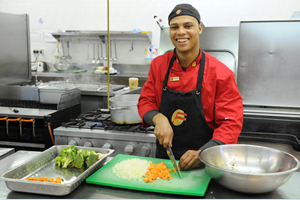 Hot diggety dough: UCT's Cook of the year, Ashwin Siekenaris, gets stuck in at University House.
Aprons crisp and paring knives poised, four UCT cooks squared up across their gas plates on 8 October, in a duel for the UCT Cook of the Year sash.
Who would it be? Mina Andries of Clarendon House, University House's Ashwin Siekenaris, Antoinette Staines of Rochester House, or Fuller Hall's Patricia Jonkers?
The four had come out tops in an earlier round, in which nine of UCT's 35 cooks took up the culinary duel.
In the preliminary round the four were asked to prepare a starter, a main and a dessert off their residence's current menu cycle. But the finals gave them an opportunity to bring on the raspberry paint and the banana foam: high-street cuisine.
But it was the baby green among them who triumphed.
The judges, all top chefs, gave Siekenaris's offering the golden spoon: Italian handkerchiefs in a home-made tomato sauce; then rack of lamb on a confit of baby potatoes, with a spring salad and sautéed Brussels sprouts; followed by chocolate tart with salted caramel cream.
At 23, Siekenaris has been feeding UCT students for only three years. But his earliest memories are of the kitchen at home.
"I was always around mom [in the kitchen]. She put a lot of passion into her food." For Siekenaris, passion and flair are the base ingredients of good food. And food is about making people happy, he says. "At University House, they love chicken." His three cooks-in-arms agreed.
"You can cook the students anything with chicken; roast chicken, chicken breast..." said Andries, who's been wielding the whisk for 15 years.
"Sometimes the students say, 'Aunty Mina, that was mwah!' and I say, 'Thank you, my children.'"
With 23 years as a cook (eight months at UCT) under her apron, Staines remembers standing on a small chair to be able to watch her mother cook.
"Jou liefde moet in daai kos wees," she says, wiping her work station.
Jonkers has been preparing meals at Fuller Hall for 12 years. Her advice to aspiring chefs?
"Follow the recipe, but use your spices."
Siekenaris, UCT's top cook, is happiest with a plate of home-made tripe, or any offal. He's an avid fan of cooking shows, and local hero Reuben Riffel is his inspiration.
Suppliers Fedics have an annual company-wide Chef of the Year competition; but in 2012, UCT introduced its own inter-unit Cook of the Year title, which feeds into the national Fedics event. This proved a huge success, with winning cook Susan Adams of Tugwell representing the Western Cape in Johannesburg in the Stalwart division.
No wooden spoons among this bunch...
Story by Helen Swingler.
---
This work is licensed under a Creative Commons Attribution-NoDerivatives 4.0 International License.
Please view the republishing articles page for more information.
---