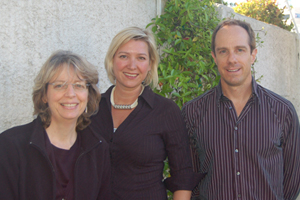 Making SA safer for children: (From left) co-researchers UCT's Prof Catherine Ward and Prof Lillian Artz with executive director of Centre for Justice and Crime Prevention, Patrick Burton.
A national study involving over 10 000 adolescents could strengthen existing child protection and care systems and make South Africa a safer place for children.
The study - the first of its kind in South Africa - is a collaborative effort between the Centre for Justice and Crime Prevention and UCT's Department of Psychology and the Gender, Health & Justice Research Unit (GHJRU).
The GHJRU's director, Professor Lillian Artz, said the national incidence and prevalence study would address the gap in knowledge about child abuse and violence against children.
"Despite on-going media reports that highlight the extremely high levels of violence, particularly sexual violence, against children and young people in South Africa, there is no reliable national data that allows for a complete understanding of the problem, the contexts in which it occurs, and where resources can best be aimed," she said.
The study is funded by the UBS Optimus Foundation, which has funded similar research in Switzerland and China. The Department of Psychology's Professor Cathy Ward said the South African study would provide data on three key research areas:
the annual incidence and lifetime prevalence rates of child sexual abuse, violence and maltreatment in South Africa;
the relationship between child sexual abuse and other forms of maltreatment, neglect and violence; and
the extent and nature of other forms of child abuse and violence, including physical and emotional abuse, and exposure to other forms of violence, such as peer victimisation, criminal violence, and witnessing violence.
Patrick Burton of the Centre for Justice and Crime Prevention said the data would help strengthen existing child protection and care systems.
"It will also help us identify where resources should be allocated, in order to prevent and intervene in cases of abuse and maltreatment. "In addition, the study is designed to generate comparative data to the Chinese and Swiss studies, also allowing the situation in South Africa to be analysed in an international context," Burton added.
Over the next four months more than 6 000 adolescents will be interviewed in randomly selected households throughout South Africa, together with an additional 4 000 adolescents of the same age at randomly selected schools.
The researchers will also collect data from child protection agencies servicing these selected areas and will explore gaps in both the reporting of child abuse and maltreatment, and the services offered to child victims after cases are reported.
The study will be repeated in five years and researchers believe the findings and recommendations could result in policy revisions that improve services for all children and adolescents in South Africa.
Both Artz and Ward are members of UCT's Safety and Violence Initiative (SaVI), a university-wide research collaboration that contributes to promoting safety, reducing violence and raising awareness about these issues.
Fact box
Some 58% of South Africa's 18.5 million children are born into poverty and live in households with an income less than R604 per person per month.
The Human Sciences Research Council says malnutrition stunts the growth of more than 25% of children under the age of three.
The government has committed R1.2 billion to early childhood development and other initiatives that support children's development.
Antenatal care offers a critical opportunity to address risk factors and ensure a healthy pregnancy. While 90% of pregnant women attend at least one antenatal visit, only 40% access early antenatal care in the first 20 weeks of pregnancy.
Access to early learning is on the increase: 90% of present-day five to six-year-olds attended an early childhood development centre or underwent formal schooling, and 99% of seven- to nine-year-olds attended school, but quality remains a problem. The average grade three score in the Annual National Assessments was 41% for mathematics and 52% for literacy.
---
This work is licensed under a Creative Commons Attribution-NoDerivatives 4.0 International License.
Please view the republishing articles page for more information.
---