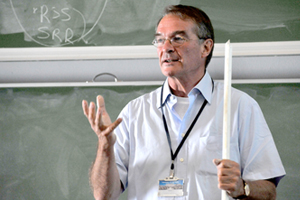 Teach them well: Prof Wilfred van Gunsteren of the Laboratory of Physical Chemistry at the Swiss Federal Institute of Technology delivered the recent Scientific Computing International Lecturer Series seminar.
This year's speaker for the Scientific Computing Research Unit's annual Scientific Computing International Lecture Series has a law degree and used to be a jazz drummer.
But in a toss-up between science and art, it was the image of playing to inebriates in a bar at age 50 that clinched it for Wilfred van Gunsteren.
Science won the day, and the renowned professor in the Laboratory of Physical Chemistry at the Swiss Federal Institute of Technology in Switzerland now mentors and trains young chemists in what it means to driven by scientific vigour.
"His scientific achievements would be the envy of many academics," remarked Professor Kevin Naidoo of the Scientific Computing Research Unit in his introduction. "A single one of his publications has collected more than 12 000 citations."
This was the focus of his recent lecture at UCT: the balance between notching up citations and other performance measures necessary to attract funding, and the academic values that underpin scientific progress. The latter prize creativity, the adventure of the unknown, and freedom to shape one's work.
Can these work in tandem?
"The basic principles of high-quality scientific research are increasingly in conflict," said Van Gunsteren.
At some institutions, securing funding has become more important than teaching or advancing science.
"Competition for funding is based on rankings, which leads to greater bureaucracy," he said. "This destroys academic values such as carefulness, willingness to share results, and honesty."
Van Gunsteren notes that there's mounting pressure on academic scientists to compete for grant money and to publish work continuously in high-impact journals where sensationalism and potential media impact are often given more weight than scientific rigour.
"This leads to inappropriate measures of success, which serve only to undermine the intrinsic value of scientific endeavour."
The challenge is to maintain basic principles of the academic endeavour, while withstanding outside pressure.
He suggests adopting a healthy disregard for the "superficial aspects" of academic research, such as citation indices or grant money gathered.
"How can we teach students the basic principles of academic endeavour, while university management violates these?"
As an illustration, Van Gunsteren cited a rejigged version of a verse from Oliver Smith's poem The Deserted Village (1770):
"Ill fares the university, to hastening ills a prey,
Where status and window-dressing accumulate,
and curiosity and honesty decay'¦"
During question time, UCT's Emeritus Professor Luigi Nassimbeni, asked for alternatives to the indices and impact factors when evaluating the worth of one researcher, or research proposal, over another for funding.
"No-one's come up with a good alternative," he said.
But using only indices and impact factors were an evasion of responsibility, Van Gunsteren argued.
"You have to judge and understand the whole fabric of your organisation and tap into what researchers' peers think and say."
Once, when asked to list his 10 most important research papers, Van Gunsteren said that none was highly cited. Only after 15 years did the list of his most-cited papers overlap with what he considered to be his most important papers.
Story by Helen Swingler. Image by Raymond Botha.
---
This work is licensed under a Creative Commons Attribution-NoDerivatives 4.0 International License.
Please view the republishing articles page for more information.
---