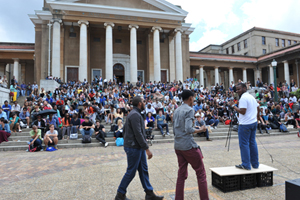 "Vote or don't complain" was the dominant refrain from a soapbox on Jameson Plaza earlier this month.
The WhyVote2014 Soapbox event was organised by a collaboration between UCT's Students' Representative Council (SRC) and the Inkulu FreeHeid (IFH), a self-described "youth-led, non-partisan movement of ordinary South Africans".
With South Africa's 2014 general elections looming, the public forum was meant to give UCT students a platform from which to air their views about the importance of voting. Although only a few hands were raised when students were asked who was registered to vote, the views from the box painted a picture of a student body champing at the bit to make its mark – both figuratively and literally.
"If you can't be bothered to stand in a queue to register to vote, you lose your right to complain," declared Anton Taylor, to applause from the gathered students. Complaining about the government at dinner parties without taking decisive action at the polls was all too common, added Taylor, who served on the 2008/9 SRC.
Even if no political party speaks completely to your desires, you should register to vote anyway, urged the IFH's Dan Corder, reminding students that "spoiling the ballot" was as powerful a statement as making a cross next to the name of a potential ruling party.
While the finer points of participation in South Africa's democracy were not discussed, each student who took to the box agreed that engaging with the voting process was key to improving South African society.
Story by Yusuf Omar.
---
This work is licensed under a Creative Commons Attribution-NoDerivatives 4.0 International License.
Please view the republishing articles page for more information.
---