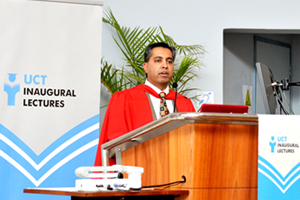 Professor Keertan Dheda, head of UCT's Division of Pulmonology, is adamant that an innovative approach to treating and preventing the disease is the answer to the problem of incurable TB.
"It is really back to the future for pulmonary medicine, where we are dealing with old problems like incurable TB using innovative tools of the future."
This statement by Professor Keertan Dheda encapsulates the main theme of his inaugural lecture. Dheda, who heads UCT's Division of Pulmonology, recently delivered this lecture to an audience that included his wife, parents and mother-in-law.
According to Dheda more than 8000 cases of multi drug resistant tuberculosis (MDR TB) patients are treated in South Africa annually. "In the US with a population of about 300 million people, they only treated 100 cases of MDR TB. TB is the most common cause of death in South Africa. It reduces the GDP by approximately 5% per annum or R14 billion," he explains.
With the onset of totally drug resistant (TDR) TB the need for better treatment regimens and better prevention programmes have become even more crucial, argues Dheda.
"We've come full circle, where once again there are large numbers of individuals who have incurable TB that are being discharged back into the community and we urgently need to prevent drug resistant TB, not only by reducing the overall TB burden (prevention being the buzzword here), but we also need to minimise transmission."
"We need to devise new regimens '" not single drugs '" for the treatment of drug-resistant TB," he urges.
He labelled drug resistant TB a "killer disease", citing studies that found that in SA only 50% of MDR TB patients have a favourable outcome. A study that followed a cohort of patients suffering from extremely drug resistant TB over ten years found that in the first five years 75% of the patients had died.
Drug resistant TB drastically increases the cost of running a TB treatment programme. "Despite drug resistant TB comprising less than 3% of the total burden of the disease (the treatment of these patients) consumes 45% of the total national budget for TB management '" amounting to over R1.2 billion."
Dheda joined the call for places of isolation and palliative care for TB patients. "We need a coordinated national strategy to provide funding for a combination of home-based care (the numbers are too large for institutional care for every patient), community stay facilities where patients can reside long-term on a voluntary basis and new style sanatoria and palliative care facilities," says Dheda.
He presented data, now accepted for publication in the leading medical journal The Lancet, showing that new PCR-based diagnostic technologies using a health care worker-led approach can rapidly diagnose cases of drug-resistant TB when placed in a clinic, thus reducing drop-out rates and interrupting transmission.
Throughout his speech Dheda acknowledged his UCT colleagues and fellow researchers while taking the audience on a journey through the advances made in pulmonary medicine.
Professor Wim de Villiers, dean of the Faculty of Health Sciences, in introducing Dheda described him as man with "boundless energy, undaunted courage, tireless persistence, lazer-like focus and unwavering discipline."
Story by Abigail Calata. Image by Raymond Botha.
---
This work is licensed under a Creative Commons Attribution-NoDerivatives 4.0 International License.
Please view the republishing articles page for more information.
---