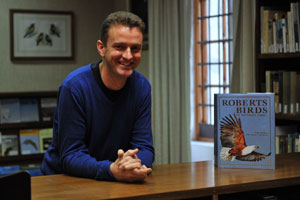 With two top awards under his belt in this his 40th year, one could say conservation biologist Graeme Cumming is peaking at the right time.
His most recent honour is the South African Association for the Advancement of Science (S2A3) British Association Medal (silver) for 2013.
For the past 81 years it's been one of the highest awards made to young Southern African scientists for original research, and recognises outstanding capability and achievements in publications, discoveries or special skills.
Four months ago UCT's Pola Pasvolsky Chair in Conservation Biology clinched a prestigious National Research Foundation/National Science and Technology Forum T W Kambule award.
This celebrated his individual contributions to science, through research, over a five- to 10-year period.
'It's nice to have the recognition that what we're doing is important - and it's nice to give the work we do some publicity and prominence,' he said.
'It's also good for the students I work with to know that their field is recognised at the highest levels.'
Cumming is supervising 10 postgraduate students: master's and PhDs students, and three postdoctoral research fellows.
Although based in the Percy FitzPatrick Institute of African Ornithology (biological sciences department), birds are only one focus of his broad range of research interests, which span landscape ecology, conservation biology, community ecology, resilience and complex systems theory.
He's running two big programmes, one of which is on water birds and disease, particularly avian influenza and avian malaria (birds are not vectors for human malaria) and potential vectors of human and avian influenza.
Avian flu has hit the ostrich industry hard. H5N2, a highly pathogenic strain, resulted in the farmers culling large numbers of birds, particularly after the 2011 outbreak. To monitor this, Cumming has been working with the State veterinarian on the movement of ostriches from farm to farm.
But much of his focus is on ducks as primary vectors of avian influenza. Using telemetry, ducks like Red-billed Teal and Egyptian Geese (which is actually a shelduck, a cross between a goose and a duck) are tagged to document their range and movements.
A GPS unit inside a small tracked a Teflon backpack is strapped onto the duck, collecting precise position points along the bird's route.
Egyptian Geese are the most widespread of all the African waterfowl and are high risk vectors for avian influenza.
'They're abundant, live among people and move long distances and come into contact with people and their poultry. And avian influenza is waterborne.'
At a broader level, Cumming also researches protected conservation areas.
'We don't know how much of South Africa is protected; and we don't know what private areas like game parks are contributing to conservation. We think they're using the same conservation model but are they long-term solutions?'
Caption
High recognition: S2A3 medal winner, Prof Graeme Cumming of Percy FitzPatrick Institute of African Ornithology in the Department of Biological Sciences.
---
This work is licensed under a Creative Commons Attribution-NoDerivatives 4.0 International License.
Please view the republishing articles page for more information.
---