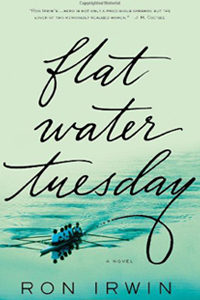 A book that was started in 1992 and was rejected by 25 New York publishers has finally seen the light of day. That book is Flat Water Tuesday, a novel that Ron Irwin, a lecturer at UCT's Centre for Film and Media Studies, published in 2012. It is the story of a man on the brink of losing the love of his life while he battles with demons from his previous life as a fanatical boarding-school rower.
It takes an invitation to his alma mater's fifteen-year reunion for the documentary filmmaker to recognise the opportunity he has to reverse the seemingly inevitable.
"I first finished the novel in 1995, and it was rejected by 25 New York publishers because it was seen as geared to the young adult market," says Irwin.
"Thirteen years later, as I was driving to my lectures at UCT, it occurred to me that I could rewrite the novel from the point of view of a grown man who is in the middle of a catastrophic personal crisis. I literally found myself on the side of the road writing notes. The manuscript was duly submitted about a year later, and the first publisher that saw it asked to buy it."
Tales of reckless young men taking part in brutal training sessions, and an alcohol-stained relationship, merge into a "memorable and deeply moving testament to what it means to train and fight for both love and victory, in sport and in life", as the blurb describes. Like his main character, Irwin is a documentary filmmaker and former rower.
"But that is where the resemblance ends," he says. "I was more interested in exploring the pain of losing somebody that you love deeply, due to emotional callousness.
Story by Abigail Calata
---
This work is licensed under a Creative Commons Attribution-NoDerivatives 4.0 International License.
Please view the republishing articles page for more information.
---