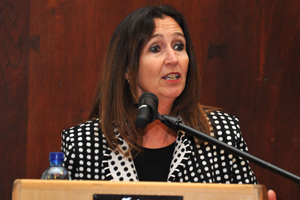 Guest word: Professor Valerie Mizrahi delivers the keynote address at the launch of the report.
With an inverted globe showing Africa in the middle, the cover of the Research Office's 2012 Research Report has a clear message: UCT is at the top of the world.
Or at the top of Africa, at least.
Serendipitously, the report's launch on 10 September came in the wake of news that UCT had risen nine places (from 154 last year to 145) on the 2013/14 Quacquarelli Symonds (QS) World University Rankings. (Quacquarelli Symonds is a British company specialising in higher education.)
UCT thus remains Africa's top university in this international ranking, a Who's Who of the world's top 400 institutions.
Much of this success is a spin-off of research prowess, and the report showcases prominent projects and inter-disciplinary themes. It also provides a quick inventory of 2012 milestones (see information box).
The launch of the report was prefaced by National Research Foundation chief executive officer Dr Albert van Jaarsveld's address. In an era of shrinking resources, he warmed hearts by announcing several NRF funding initiatives to boost research - and particularly for established and aspiring researchers.
Additional funding of over R350 million will help upcoming researchers establish themselves and give established researchers a chance to broaden their scope.
Funding is a contentious issue. In her keynote address, Professor Valerie Mizrahi, director of the Institute of Infectious Disease and Molecular Medicine said it was vital that UCT articulate the important research, prioritise it and configure its system accordingly. "What do we invest in, and how do we evaluate research?"
Mizrahi cited the development of new TB vaccines as an example - a highly complex interaction of multinational partners and collaborations and funders.
"We urgently need new TB drugs. With South Africa's historical incidence we [UCT] have a special responsibility to play a leading role in assessing the value chain in [drug] discovery and implementation. We have to be part of the value chain here." There had to be significant and sustained support, she added.
"However, the commitment must be long-term, as there will be no quick fixes or easy solutions."
Milestones at a glance
1 218 research contracts;
R682 million in research contracts;
415 NRF-rated researchers;
33 SARChI Research Chairs;
1 314.40 units publications count and 2 500 journals, books and proceedings;
8 248 postgraduate students;
1 391 doctoral students;
282 postdoctoral research fellows;
R159 million postgraduate funding.
View the full research report.
Story by Helen Swingler
---
This work is licensed under a Creative Commons Attribution-NoDerivatives 4.0 International License.
Please view the republishing articles page for more information.
---