2014 will see the launch of an innovative new master's programme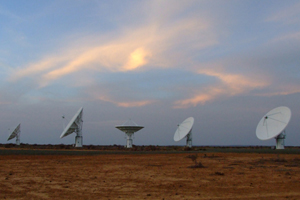 Dished up: The SKA project demonstrates the country's high degree of technical competency in space technology.
While Stanley Kubrick's cult film, 2001: A Space Odyssey, may not have played out in real life as accurately as some movie buffs might have hoped, UCT is cranking up the ante in the quest to tame the final frontier.
The year 2014 will see the launch of a new multi-disciplinary postgraduate programme in space studies, convened by the Faculty of Engineering & the Built Environment. However, one doesn't necessarily need a degree in engineering to enrol for this Master's of Philosophy programme; it caters for students from a range of academic and professional backgrounds, and is meant to reflect the inherently multi-disciplinary nature of outer space systems, says Dr Peter Martinez, who will convene the programme.
"As you may know, South Africa has recently established a South African Space Agency (SANSA) to co-ordinate its national space activities," says Martinez. "At first when you hear about a space programme in a country like South Africa, with all its problems, like HIV/AIDS and poverty, you might wonder what space has to do with it. But these days space is really one of the cornerstones of the modern information society.
"We are all critically reliant on space, and I don't just mean government, institutions and businesses. I mean all individuals. Every time you switch on your cellphone, you are making personal use of the space system – not because your phone is a satellite phone, but because it uses the GPS signals that a cellphone network needs.
"Those same signals are used by ATM networks, street light networks, traffic light networks, power distribution networks, and many more. So, there are many space applications these days, and countries are beginning to organise themselves to take better advantage of these technologies."
A student with an engineering background might write a thesis about a technical aspect of Earthlings' relationship with outer space, but somebody with a commerce background, for example, might research the economics of the space industry, says Martinez. While there will be a science and engineering component, Martinez allays fears that non-mathematics boffins would be all at sea.
"If you've got a section of the course that is about the regulatory aspects of space, then somebody with a legal background would obviously have an easier time doing that, and the idea is that they would interact with the engineers, and vice versa. "Again, this is to build the multi-disciplinary character of the programme, so that you have engineers who understand that space systems and projects are more than just engineering projects – that there's a business component to it, there's a regulatory component and a policy component."
While budding astronauts might have to look elsewhere for a launch pad, Martinez says that space studies graduates would be employable in government agencies and in academia.
"As the space industry grows, the demand for people with the knowledge and skills of how to process data from space also grows. There is more of a drive to extract information that is meaningful to people. Examples would include disaster management, food security, and water management, to name but a few. All these areas require skills in processing space data. It would be in the space applications area and also in the aerospace and defence area."
Martinez believes that the programme could help banish perceptions that careers in space technology are the sole preserve of North Americans and Europeans.
"There's this iconic image of space technology, one that shows the Earth from space with the African continent at its centre," he says. "To me, the ironic thing about that image is that it shows the continent where space technology is least developed.
"We are now finally seeing a situation where African countries are beginning to enter the space arena not as consumers of space technology or as passive bystanders watching the rest of the world, but as active participants.
"South Africa has shown through projects like SALT and the Square Kilometre Array that the country has a very high degree of technical competency in this domain, so there's no reason to suppose this country cannot develop the capabilities to supply its own space technology requirements in future. In order to do that, we need a skilled workforce, and that's where this programme comes in." The MPhil will not reject expertise from Earth itself, however, and prospective students can look forward to learning from industry leaders from around the world.
For more information, contact Dr Peter Martinez
Story by Yusuf Omar
---
This work is licensed under a Creative Commons Attribution-NoDerivatives 4.0 International License.
Please view the republishing articles page for more information.
---