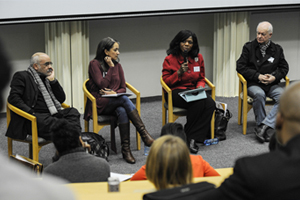 Vexing question: Professor Crain Soudien (left), Deputy Vice-Chancellor of UCT, Ferial Haffajee, editor of City Press, Thuli Madonsela, South Africa's public protector, and satirist Pieter-Dirk Uys debated what the role of students should be in creating an active citizenry.
It is incumbent upon students to be absolutely anti-establishment. That's your role in the world. But how do you balance that with civic duty? What does it mean to be citizens? What does it mean to be part of the civic?"
These challenging questions, from City Press editor Ferial Haffajee, formed part of a heated panel discussion that took place recently at UCT, about the role of students in creating an active citizenry. Sharing the panel with Haffajee were South Africa's public protector, Advocate Thuli Madonsela, satirist Pieter-Dirk Uys, and Professor Crain Soudien, Deputy-Vice Chancellor of UCT.
Soudien said that society had not yet worked out what the role of a student is in creating a public-minded and socially-conscious South African citizenry.
"We are required to try to work out how to come to a sense of deep respect and appreciation for each other across these historic boundaries behind which we find ourselves," he said. "So what we [as students and academics] are required to do is to go into these 'unknown' areas of life in South Africa to begin to explore the complexity of what it means to be - not doing 'charity' to people in Gugulethu - but to be in a position where we come to understand what it means to be equal, and the respectful equal of somebody else with whom, historically, we have no relationship.
"That's the incredible challenge," Soudien continued. "There's no model for it. The university itself doesn't yet provide a way of doing that in its constitution, and it's our burden - our gift, in many kinds of ways - to help build that."
As a journalist, Haffajee said, she daily faces an "intricate balancing act of being a critic and being a patriot, and often getting that balance very wrong".
"As an active citizen, how do I break and how much do I build?" she asked. "It's not easy being an active citizen." While Haffajee said it was often tricky finding the balance between acting as a fourth estate and contributing to developing South Africa's democracy, she was certain of students' position in that equation.
Uys told students that their role was to work hard at being excellent students as much as it was to question and criticise. "As long as we have the freedom to criticise, the freedom to be offended, the freedom to celebrate, the freedom to laugh, we'll be okay," Uys said. "Change the world. But you can only change the world if you work here. You are here to work. You are here to make a difference, because without you, we have lost the country."
Madonsela expects students - and all those with the opportunity to pursue formal education - to lead national debates. "We are at the crucible of leadership," she said. "Education allows you to see clearer than others, whether you like it or not. So obviously, what we then expect from an educated child is different from what we expect of an uneducated child in terms of how they can express themselves.
"I expect you to educate people about the rule of law; I expect you to educate people about democracy." Madonsela's participation in the debate was part of the office of the public protector's ongoing stakeholder consultative dialogue, which aims to help strengthen government's ability to deliver on the Millennium Development Goals set by the United Nations.
The discussion was organised jointly by UCT's History and Current Affairs Society, the Students' Representative Council and the Department of Student Affairs. It was held during UCT's first Civic week, a student-organised campaign that aimed to create awareness among students about young people's civic responsibility.
Story by Yusuf Omar
---
This work is licensed under a Creative Commons Attribution-NoDerivatives 4.0 International License.
Please view the republishing articles page for more information.
---