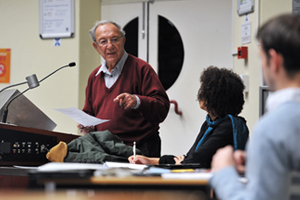 Not pointing fingers: Professor Ben Turok (at lectern) encouraged the university to become a "hothouse of ideas, of new thinking and transformation".
Teaching at UCT needed to keep up with the needs of a country and continent battling to transform and banish the ills of colonialism and apartheid.
This was one of the opinions expressed at a panel discussion held at the university on 26 August, entitled 'Responding to Student Needs at UCT' on the table. Deputy Vice-Chancellor Professor Crain Soudien kicked off proceedings, with ANC MP Professor Ben Turok and Lorne Hallendorff, president of UCT's Students' Representative Council, responding.
The discussion was based on an article penned by Soudien and UCT Vice-Chancellor Dr Max Price on 'Responding to Changing Student Needs at UCT' that was published in issue 51 of the New Agenda, a South African journal of social and economic journal that Turok edits.
"UCT was an extraordinarily different place when I was here as a student," said Soudien. "After 1985, the campus goes through a dramatic change, particularly after 1994. This campus now is unrecognisable now to what it had been just twenty or more years ago.
"The critical thing coming out of all of that is that the kinds of students coming to UCT are different to students who were here in my day. In my day, there was a very close correspondence in the identities of the people who were teaching and the people who were being taught."
These days, he said, students came from a variety of backgrounds and brought a smorgasbord of experiences to the classroom.
"It is ... incumbent on us to be able to teach differently to the way we may have been teaching before," he said. "How do I bring the very best out of these young people [whose experiences may be very different to mine]?"
Turok agreed. "Teaching at UCT, as far as I know, and I don't know all of it, is too conservative; it's too conventional, because you're measuring yourself with Harvard, with Oxford, with Cambridge, with the West, the North? Why not measure yourself within the parameters of South African transformation issues?
"I think that what UCT needs to do is to ignite a spark in the students about the new South Africa, about the challenges we face, about how we go through transformation."
Turok cited the University of Dar es Salaam in Tanzania's transformation from "a real backwater" to a hub of new thought and teaching after Julius Nyerere had become the first president.
"The students in Tanzania were very poorly prepared because under colonialism the education system was pretty awful, but once Nyerere ignited the idea of a new country, a new society, a new system, the students began to read avidly, not just swotting. There were seminars going on all day, and at night. It was a hothouse.
"I want to see UCT a hothouse of ideas, of new thinking and transformation, and that will bring out the best of the best in the students."
Hallendorff questioned whether the UCT's institutional culture had changed sufficiently for students from disadvantaged backgrounds to not feel as if they needed to change aspects of their behaviour and culture to truly fit in.
"They are being made to change, and the current people that fit within that culture, they can live comfortably," said Hallendorff. "My question is, do historically disadvantaged students actually feel as if they 'own' this university, too?"
He called for a revamp of teaching methods.
"Almost everything we study is Americanised, especially what I study, which is finance, economics and accounting. How can we start to make this a place where we are using African models and African case studies and where people that are teaching us are more aligned to the social backgrounds of students?"
The lively discussion that followed these suggestions needed to be cut short to accommodate a lecture due to take place in the same venue. Turok suggested creating a working group to continue the debate continued outside the lecture hall, a suggestion that was taken up by facilitator Edwina Brooks, the UCT director for student development.
Story by Yusuf Omar.
---
This work is licensed under a Creative Commons Attribution-NoDerivatives 4.0 International License.
Please view the republishing articles page for more information.
---