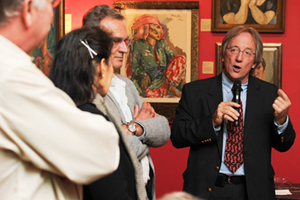 Sounding the warning: Professor Ed Rybicki (holding mic) speaks about the dangers an influenza pandemic would pose a country like South Africa.
South Africa would be left to fend for itself in the event of a pandemic viral outbreak, said UCT's Professor Ed Rybicki to an audience of academics, government officials and the general public.
Speaking at UCT's first Café Scientifique in July, the molecular biologist led discussions about the state of medical virology in South Africa and worldwide, focusing particularly on vaccine-production. Rybicki's talk, titled Vaccine Rapid Response: Is South Africa Ready?, left guests in no doubt that the country was ill-equipped to protect its citizens from any such outbreak in the near future.
"The whole purpose of the Café Scientifique is to bring the science back into culture," said Piet Barnard, the director of UCT's Research Contracts and Intellectual Property Services (RCIPS) office. Part of the aim was to create a culture of involving alumni in the mentoring of young innovators, he added, and the 'Café' provided an ideal forum.
RCIPS were the key organisers of this Café Scientifique initiative, which made its first appearance in South Africa in Pietermaritzburg some years ago, after debuting in Leeds, UK, in 1998. There was a Café Scientifique in Franschhoek "a couple of years back", which was used as the reference point for Tuesday's event, Barnard explained.
The official Café Scientifique website describes the assembly as "...a place where, for the price of a cup of coffee or a glass of wine, anyone can come to explore the latest ideas in science and technology. Meetings take place in cafes, bars, restaurants and even theatres, but always outside a traditional academic context".
The recent iteration was held at the Irma Stern Museum, where guests deliberated the finer points of South Africa's capacity to respond to viral pandemics, in particular the looming threat of an influenza pandemic.
"There is an enormous amount of academic activity and research activity, but not a lot of getting stuff back out to the communities that aren't experts," said Rybicki.
The "stuff" that Rybicki and his team work on is vaccines. They have 66 patents on the market, but none of them, to Rybicki's dismay, have become products on shelves. This was simply due to a lack of funding to follow projects through to the development and distribution stages (the lack of funding was borne of a complex mix of economics and politics), he said.
A WHO representative reportedly told Rybicki and others at a 2006 virology conference that "when the [influenza] pandemic comes, you guys are on your own. Nobody will give you vaccines ... until everybody else has been served".
The accuracy of this statement rung true three years later when the H191 global influenza pandemic struck in 2009, Rybicki recalled. South Africa received its first batch of vaccines in 2010 '" and these first went to officials of the 2010 FIFA World Cup. That pattern was not likely to change any time soon, he added.
The next instalment of Café Scientifique is scheduled for 10 September, also at the Irma Stern Museum at 18h00 for 18h30. The topic under the microscope is 'Amazing Algae', with UCT's Professor Sue Harrison discussing the possibilities of algae being an economically viable and sustainable answer to alternative energy provision and CO₂ mitigation.
Story by Yusuf Omar.
---
This work is licensed under a Creative Commons Attribution-NoDerivatives 4.0 International License.
Please view the republishing articles page for more information.
---