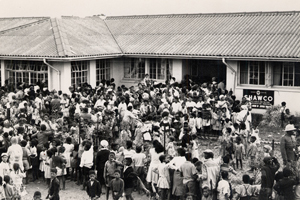 Then: Community members congregate outside the SHAWCO clinic in the late 1950s, in the area known as Kensington-Windermere, now Kensington and Factreton.
Seventy years ago a UCT student saw a community in need and decided to do something about it. In 1943 the Kensington Students' Clinic was established to address the squalor Andrew Kinnear, a UCT medical student, encountered in the area. His efforts were supported by Dr Golda Selzer from the Groote Schuur Pathology Department.
The Kensington clinic, together with two others in Retreat and Elsies River, would form the backbone of what would become the Students' Health and Welfare Centres Organisation (SHAWCO). In 1954 SHAWCO was formally approved by the University Council and was registered as a welfare organisation.
Today SHAWCO Health coordinates six clinics per week, which operate at night, and see an average of 5 000 patients per year. SHAWCO Education manages 11 projects that cater to over a thousand children. In order to remain sustainable, SHAWCO Social Enterprises (Pty) Ltd was created, and currently contributes half of SHAWCO's income. The revenue generated through the social enterprise projects is reinvested into the communities SHAWCO serves.
Changing context
According to Jonathan Hoffenberg, SHAWCO education coordinator, since its establishment the organisation has reflected the changing nature of the UCT community as well as that of broader Cape Town.
For him, SHAWCO history is broken into three phases: pre-apartheid, during apartheid and post-apartheid.
"SHAWCO has its origins in a segregated city and university, so initially its work involved privileged students doing outreach in so-called slum villages. The amelioration of poverty was the focus and SHAWCO set up day clinics, welfare (including the first meals on wheels) and sports projects, and night schools," says Hoffenberg.
The advent of the apartheid system galvanised SHAWCO and had a massive impact on the organisation and the communities it served. "Apartheid saw a division growing within SHAWCO, as staff-run and increasingly large-scale welfare and statutory work using state funds conflicted with growing student activism. But despite these inherent tensions, SHAWCO continued to incubate and pilot community engagements such as the Peninsula School Feeding Scheme.
"Post-apartheid Cape Town presented SHAWCO with a new mixture of adversity and opportunity. Along with the changing nature of UCT, SHAWCO now reflects a diverse volunteer student core. Gone is the statutory and welfare work, health clinics are now mobile, and education projects see UCT students travelling into townships Monday to Saturday in an engagement that is more about mutual development and support," concludes Hoffenberg.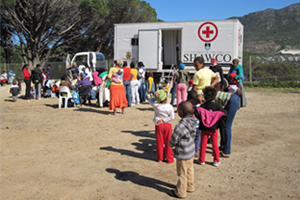 Now: The SHAWCO paediatric clinic at Imizamo Yethu is one of two weekly paediatric clinics SHAWCO runs in partnership with the School of Child and Adolescent Health. These clinics were introduced in 2009 and operate either from permanent health facilities or purpose-built mobile clinics.
Emphasis on development and sustainability
This shift from statutory social and welfare work to development is evident in the type of projects undertaken by SHAWCO today. In 1962 one of SHAWCO's flagship projects was the Family Health Promotion Clinic. Twenty-five fouth-year medical students were allocated to needy families living in the Windermere (now Kensington) area. These students would act as family doctors and conduct home visits. They were also obliged to leave their telephone numbers so that the families could get hold of them in emergencies.
Co-founder Selzer, then-chairperson of the SHAWCO Health management committee, reported in an article for the SA Tydskrif vir Geneeskunde that these students would "advise on nutrition and through the SHAWCO welfare service they help with clothing and blankets. Students have used their influence to find employment even for the unemployables and those who want work".
Selzer remained SHAWCO's honorary life president until her death in 1999. The current life president is Graça Machel, UCT chancellor and the wife of former president Nelson Mandela.
One of SHAWCO's current projects is the Saturday School. It was piloted in 2008 in the townships of Khayelitsha and Nyanga. Its purpose is to provide previously disadvantaged learners with curriculum support in mathematics, physical science, English, life science and accounting (see sidebar for more information).
To help fund the Saturday School, the SHINE programme was developed, in 2010. Grade 10 to12 learners from more privileged backgrounds are given the opportunity to improve their academic achievements in subjects such as pure mathematics, physical science, accounting, English and Afrikaans – at a cost. The payment received from the SHINE learners partly subsidises the costs of the SHAWCO Saturday School programme, which supports more than 200 learners from disadvantaged communities.
Student-driven organisation
"The unique feature is that the entire project, since its earliest days, has been the responsibility and achievement of students of the University of Cape Town." This observation by Selzer in her 1963 article encapsulates one of the hallmarks of SHAWCO.
In his memoirs, former UCT vice-chancellor Stuart Saunders agrees: "The students have consistently been in advance of their elders in introducing change in SHAWCO. They were amongst the first to emphasise community involvement in the affairs of the organisation – and to insist that the purpose of SHAWCO was to empower the poor people so that SHAWCO services would eventually no longer be needed in a particular area."
As much as the communities are impacted by SHAWCO's interventions, the student volunteers are not left unchanged by their interaction with people less fortunate than themselves.
Lesley Connolly, a former SHAWCO volunteer who works for the African Centre for the Constructive Resolution of Disputes (ACCORD), said this about her experience at SHAWCO:
"SHAWCO exposes an otherwise sheltered student life to a different side of Cape Town. SHAWCO provides opportunities for students to learn and help society and gives the learners it works with a fighting chance at making something of their lives. I do not think students at UCT seize the opportunities SHAWCO provides enough, and I do feel that it needs to retain more students to ensure follow-through, but as a primarily student-run organisation, it allows student to really grasp a bit more of the reality of South Africa."
FLAGSHIP PROJECTS
At the heart of SHAWCO's work are its many volunteer-driven projects and social enterprises. Two projects give insight into the organisation's priorities as it enters its seventh decade.
RAGS2RICHES
Part of SHAWCO's Social Enterprise sector and one of its five revenue-generating initiatives, Rags2Riches was launched in 2007. It sees the collection of second-hand clothes, mainly from UCT students, which are then cleaned and sold to vendors for a nominal amount. In turn, these vendors mark up the clothing and sell it on.
On 3 May 2011 SHAWCO opened its first Rags2Riches store in Mowbray, and on 25 May 2013 its second store was opened at the SHAWCO Kensington Centre.
Since 2012 it has been possible to keep track of incoming and outgoing stock through a system created by four volunteers from Hong Kong. This tracking system includes the ability to see all items that were received from various collection points, and also donations from members of the community. Since its inception, this project has generated approximately R1 million annually, which has been ploughed back into SHAWCO's operational funding.
SATURDAY SCHOOL
Established in 2009, Saturday School is a professionally-run educational intervention that engages with more than 200 Grade 12 Cape Town-based learners from developing communities. It aims to strengthen learners' abilities in core academic areas such as mathematics, physical science, English, life science and accounting.
The programme takes the learners out of their communities and transports them to the University of Cape Town for extra lessons, thus giving them the opportunity to experience what attending a university would be like. The learners also receive life skills interventions and career guidance workshops, and are encouraged by motivational speakers and other guest presenters. They are also given access to chemistry and botany laboratories, a luxury many developing community schools do not have.
In their own words: volunteers share their thoughts
"The principle of service to the community is fundamental to SHAWCO work. The service rendered is often more than purely medical. The build-up of morale and responsibility among the local populace is urgently needed; it is only when this sense of self-respect has been achieved that 'long-term' treatment can be undertaken."
David Katz
SHAWCO volunteer 1967
"My seven-year involvement in SHAWCO was a life-changing experience – one that has shaped my view and instilled in me the belief that change is possible. SHAWCO consists of a group of dedicated and passionate individuals; all with the aim, together with the communities, to improve the lives of others. I really do miss the caring family and the work I did, but I enjoy watching how SHAWCO keeps growing from strength to strength. I am honoured to have been a part of such amazing work."
Thandi de Wit
Health President 2009
"As a volunteer, SHAWCO clinics achieved what the medical curriculum based in tertiary hospitals struggled to do: humanise medical treatment and allow one to better understand the socio-economic background of patients in our society. The clinics reminded me why I studied medicine and taught me how to be a good doctor, as well as most of my clinical skills and knowledge of primary-care ailments. Through SHAWCO we were gifted the invaluable experience of managing a huge healthcare organisation, and learning to jump all the administrative and legal hurdles that we will face later in our careers."
Simon Mendelsohn
SHAWCO Health President 2011
Story by Abigail Calata
---
This work is licensed under a Creative Commons Attribution-NoDerivatives 4.0 International License.
Please view the republishing articles page for more information.
---