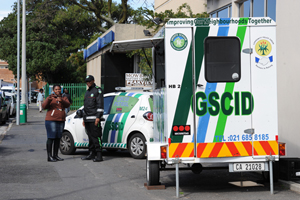 On patrol: Twelve additional CCTV cameras along Main Road have increased security in the areas serviced by the GSCID. This statutory body together with its counterpart in Observatory comprise 60 patrol staff, nine vehicles and four security kiosks.
Greater security will be the result of the extension of the closed-circuit camera reach along Main Road. UCT, the City of Cape Town and SA Breweries recently contributed R1 million each towards the installation of twelve additional closed-circuit cameras in Main Road. This means that as of 1 July of this year, there has been CCTV surveillance from the city centre to Newlands, whereas before the closed-circuit cameras were along Main Road only up to the N2.
According to Anthony Davies, CEO of the Groote Schuur Community Improvement District (GSCID), this illustrates the university's commitment to ensuring students' safety off-campus. "It is an instance where the university is reaching out to its surrounding community by providing additional security," he says. He added that the money was not only for the provision of additional cameras, but will also be used to employ extra staff to monitor the footage from the cameras.
UCT is its major funder and is directly involved in the management of the GSCID. Since its inception in 2010 the GSCID has covered the area, containing mostly commercial properties, along Main Road from the N2 to the Newlands swimming pool. Last year patrols were extended to include the area up to Paradise Road in the south, Campground Road in the west and Rhodes Drive in the east.
This was done with the protection of students living in the area surrounding UCT in mind, states Davies.
According to John Critien, executive director of properties and services at UCT, 45% of students who are not in residences and do not reside permanently in Cape Town live within a five kilometre radius of UCT.
Julie Berg from UCT's Centre of Criminology cites various international sources that have found "both anecdotally and through systematic research that Improvement Districts (IDs) are successful in impacting crime, relieving traffic congestion and/or increasing property values".
There are no statistics available to illustrate the impact the GSCID has had. Berg, however, refers to studies indicating that the presence of the Cape Town Central Improvement District resulted in a 60% reduction in crime in the CBD in a five-year period in the early 2000s. "A mini-victimisation survey supports these claims. Also that crime in one year alone (2007/2008) had reduced by 28 per cent in Cape Town's CBD.
"I also found in my interviews that there were general perceptions from the public and those involved that things were better with IDs in place," she added.
Story by Abigail Calata
---
This work is licensed under a Creative Commons Attribution-NoDerivatives 4.0 International License.
Please view the republishing articles page for more information.
---