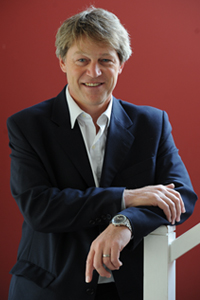 It is time for a new paradigm in the healthcare sector, one where the cost of new drugs is not crippling and diseases are treated in a far more nuanced manner than currently is the case.
That was the thrust of UCT Professor Jonathan Blackburn's inaugural lecture on 21 August, and the medical biochemist is leading the charge into a bright new era. The lecture, titled Discovery and Innovation in Chemical Biology: Biosynthesis, microarrays, mechanisms and diagnostics, told the story of a man driven by passion and a sense of responsibility to use his skills to vastly improve the provision of healthcare worldwide.
Blackburn strives to understand and predict in unprecedented depth the individual nature of disease progression and of drug response, and uses his knowledge of mechanistic enzymology, protein biochemistry, molecular biology, proteomics and the creation of new biomolecules by in vitro evolution to do so.
"There's huge opportunity for both biotechnology companies and academics to get involved in the drugs-creating world," said Blackburn. "There's opportunities to develop compounds that might be suitable for diseases, particularly in the developing world where, clearly, the pharmaceutical economic model won't work.
"The majority of prescriptions drugs on the market today only work on about 40% of the people to whom they are prescribed," he said. "That's not generally recognised.
"It doesn't mean to say that for 60% of patients there isn't a drug. It just means that the doctor who is making the prescription didn't know exactly what was wrong with the patients and didn't prescribe the right drug to target the exact disease and didn't take account of the patient's genetic makeup.
"So it seems to me it's time for a new paradigm in this whole healthcare sector," said Blackburn. "We should really end up with looking at a process where we're going towards prescription drugs to the patients on the basis of accurate diagnosis and knowledge of the impact of the patient's genotype on that medication."
Blackburn received D.Phil in chemistry from the University of Oxford in 1992. He was appointed to the South African Research Chair in Applied Proteomics & Chemical Biology within UCT's Institute of Infectious Disease and Molecular Medicine (IIDMM) in 2008.
One might say that Blackburn was destined for a career in biochemistry, with a world-renowned chemical biologist, Michael Blackburn, for a father and a Nobel Prize-winning maternal grandfather, Sir John Cockcroft, who won the prestigious award for his work on splitting the atom.
"No pressure," quipped Professor Ed Sturrock, who introduced Blackburn to the gallery.
No pressure, indeed.
However, one gets the sense that the man who IIDMM director Professor Valerie Mizrahi described as "calm, has an incredibly cool head, is able to analyse situations logically, calmly, rationally and can offer practical solutions to what at times seem like insurmountable problems", will cope with the expectation just fine.
Story by Yusuf Omar, picture by Michael Hammond
---
This work is licensed under a Creative Commons Attribution-NoDerivatives 4.0 International License.
Please view the republishing articles page for more information.
---