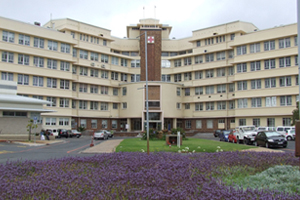 Milestone: Thanks to the Western Cape Government's recent purchase of new equipment the Red Cross War Memorial Children's Hospital (in picture) notched up a first when a nine-year-old patient had successful non-surgical correction of a heart rhythm abnormality.
A nine-year-old girl with heart rhythm abnormalities (arrhythmia) recently became the first child to have successful non-surgical correction of the abnormal electrical circuit at the Red Cross War Memorial Children's Hospital.
In a procedure known as radio frequency ablation, part of the heart's electrical conduction system is ablated using the heat generated from a high-frequency alternating current. Cardiac ablation is used to destroy small areas of the heart that cause rhythm problems.
Children born with abnormal cardiac electrical circuits can be treated using wire catheters inserted into the heart to burn the pathways. As radio frequency current does not directly stimulate nerves or heart muscle, this procedure can often be conducted without general anaesthetic.
Although this therapy has been available for many years at Groote Schuur Hospital and other 'adult' centres in Cape Town, the Western Cape Government's recent purchase of new equipment for use at the Red Cross Hospital has allowed children with rhythm disorders to be treated in a child-friendly environment.
This procedure was performed by Groote Schuur cardiologist Dr Ashley Chin, assisted by the catheterisation laboratory staff at the Red Cross Hospital, and will advance care for children with heart disease.
"I am pleased to report the procedure was a resounding success," said Dr George Comitis, a paediatric cardiologist who was part of the team. "Our nine-year-old patient is well; her abnormal heart rhythm has disappeared and her heart is beating regularly. We have stopped all of her cardiac medications."
The patient was discharged a day after the procedure, which was the pilot of a service that will be launched officially in September, with four to five patients undergoing electrophysiological procedures at the hospital.
"This is a first in South Africa - I understand we are the only paediatric centre in the country able to offer this treatment," said Professor Heather Zar, head of the Department of Paediatrics and Child Health at the Faculty of Health Sciences and the Red Cross Hospital.
---
This work is licensed under a Creative Commons Attribution-NoDerivatives 4.0 International License.
Please view the republishing articles page for more information.
---