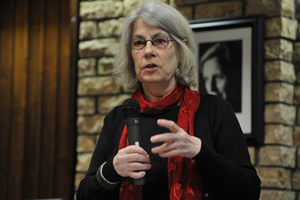 Segregated science: Prof Lundy Braun spoke on knowledge, equity and health in post-apartheid South Africa at a seminar and panel discussion, hosted by the School of Public Health and Family Medicine.
The perpetuation of inequality in healthcare was bedevilled by "scientific racism" that had resulted from the use of race and racial categorisation in the production of scientific knowledge, Professor Lundy Braun of Brown University in the US said.
She was speaking at the Transformation and Equity Seminar and Panel Discussion, hosted by the School of Public Health and Family Medicine on 1 August.
Braun is Professor of Pathology and Laboratory Medicine and Africana Studies and her research analyses the structural causes of health inequality.
The event was hosted by Professor Mohamed Jeebhay, head of the School of Public Health and Family Medicine, and panellists included Professor Raj Ramesar (human genetics), Glenda Wildschut (Transformation Services Office), Dr Sophia Kisting-Cairncross.
The topic, Knowledge, Equity and Health in Post-Apartheid South Africa: What's race got to do with it? is part of a series of discussions in the faculty's on-going transformation programme.
Speaking at the event, Braun said the US and South Africa shared the dubious distinction of "a troubled [racial] history", and scientific racism, particularly in the biomedical field, which was ensuring that the past lived on in the present.
While the influence of the Human Genome Project had pointed to a common humanity, genes as causes of ethnic- and race-based disparities of disease had fuelled race-based medical research and era of pharmacogenomics, where drugs are designed to work with an individual's personal genetic makeup.
Braun cited the BiDil case. BiDil is a drug designed to treat congestive heart failure in African Americans. However, later studies found that that BiDil was not a new drug and neither was there firm evidence that it worked in this population group.
Researcher had suggested that socio-economic conditions and not genetics had predisposed this group to congestive heart failure.
The case provided a useful lesson in segregated medicine, said Braun.
During the discussion it was indicated that the issue of the continued use of race in South Africa is to evaluate impact of delivery in terms of health, housing, education, among others. It did not obviate the need for the healthcare professionals to conduct a comprehensive patient history in a clinical setting. Clinicians still had to treat the individual patient.
"In the clinic, race is of no use," she said later. "Assumptions made about race cannot become shorthand for not taking time to speak to patients in clinical settings.
And although she had been visiting South Africa for a long time - "and the more I come the more I learn" - Lundy said she had been shaken by the ways apartheid had penetrated the crevices of life in this country.
"With race deeply embedded in bureaucratic structures, the edifice in South Africa is at risk of perpetuating the past."
Story Helen Swingler. Picture Je'nine May.
---
This work is licensed under a Creative Commons Attribution-NoDerivatives 4.0 International License.
Please view the republishing articles page for more information.
---