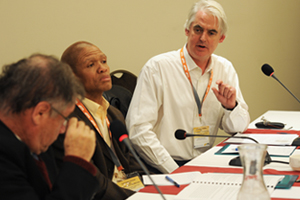 Lessons learnt: Judge Dennis Davis (left) moderated a discussion on the Van Zyl Slabbert Electoral Task Team Report on Electoral Reform 2003 by Prof Kealeboga Maphunye (middle) and UCT's Prof Anthony Butler.
The subject of electoral reform had become a political football and this was evident particularly on the eve of the 2014 general election, said UCT's Professor Anthony Butler at last week's Electoral Systems and Accountability Roundtable hosted by the Forum for Public Dialogue (FPD) and UCT.
Butler, a professor in the political studies department, was reflecting on the Van Zyl Slabbert Electoral Task Team's Report on Electoral Reform in 2003 at a session moderated by Judge Dennis Davis.
One of two reports on electoral reform produced post-1994, the Van Zyl Slabbert majority report's recommendations, accompanied by draft legislation, were never implemented. And although the report had since revealed its limitations, Butler questioned the ANC's commitment to electoral reform having become preoccupied with internal party discipline and its own, undemocratic party list system.
"The governing party will not bring electoral reform about unless it's in its own interests," he said of the ANC, which since democracy had become a "shambolic, dysfunctional party", decomposing into breakaway parties.
"Sometimes it's hard to believe it exists as a party at all."
And electoral reform driven by the ruling party could make it harder for breakaway parties like COPE and political platforms like AGANG to succeed.
The author of Paying for Politics: Party funding and political change in South Africa and the global South, Butler said electoral reform had to ensure greater transparency - particularly with regard to party funding - and accountability to the electorate.
"It is difficult to hold political leaders to account using the electoral process," Butler argued, "because citizens lack necessary information about who has been responsible for what."
The keynote address was delivered by Advocate Paul Hoffman, director of the Accountability Institute in Southern Africa, who called for public transparency in private funding of political parties. The governing party had a huge, unfair advantage, he said, with money pouring into its coffers from unnamed sources.
Professor Roger Southall, who holds UCT's inaugural Van Zyl Slabbert Chair in Politics and Sociology, said the closed-list system had also attracted a "certain character type" to politics.
"We need to create a system that attracts the right kind of person."
He added: "There are no magic solutions. We must impose limitations and we must tackle the funding issues. And we must get MPs to become more accountable. There's nothing like getting an MP into a town hall and heckling them."
Earlier in the day discussants presented the pros and cons of alternative electoral systems; Germany (Nico Lange), Kenya (Godwin Shilaho), Lesotho (Professor Roger Southall), and Zimbabwe (Percy Makombe).
While a constituency-based system would make candidates answerable to voters, particularly important in rural areas, Butler also warned that it could provoke conflict over the demarcations of constituencies.
"We must remember that political parties control ethnic and racial mobilisation; it's a huge area of risk that should make us think more than twice."
But 19 years into democracy South Africa had been left with an even more pressing problem, Southall added: declining voter participation and growing alienation among the youth who had seen the system's limitations '" and all but eschewed outdated modes of voting.
"If that's a generational perspective, especially in poorer areas, we have a problem."
The centrepiece at the roundtable was the draft of the FPD's working paper, Electoral Systems and Accountability: Comparative case studies and lessons for South Africa, its last chapter still to be written, based on the outcomes of these discussions.
(*Prof Roger Southall, of the University of Witwatersrand, is the first in a five-year series of visiting professors in UCT's Faculty of Humanities. The chair is funded by the Open Society Foundation for South Africa and honours the legacy of Van Zyl Slabbert.)
Text Helen Swingler, picture Michael Hammond.
---
This work is licensed under a Creative Commons Attribution-NoDerivatives 4.0 International License.
Please view the republishing articles page for more information.
---