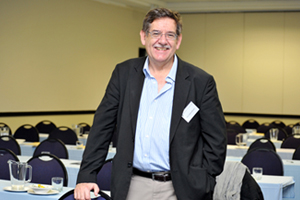 Overview: Prof Johann Mouton of the Centre for Research on Evaluation, Science and Technology presented his findings on UCT's research profile over 20 years at a recent research indaba.
UCT's publications output has grown in tandem with its international research collaborations, with international collaboration accounting for 41% and national collaboration for 25% of its publications output.
This was revealed at UCT's recent Research Indaba and reflects the university's prioritisation of development of links with universities around the world as a way of bolstering the quantity and quality of its research output.
The fruits of this approach were revealed at the indaba where Professor Johann Mouton of the Centre for Research on Evaluation, Science and Technology (CREST) presented his findings from work commissioned on UCT's research profile over a 20-year period.
Chief collaborators in UK and the US
UCT's mainstay collaborators are US and UK universities, which dominate among the top ten countries that UCT's researchers work and publish with. However, there are shifts in patterns of collaborations with new partners emerging at universities in Uganda, Zambia, Thailand, South Korea, Hungary, Singapore, China, Sweden, Czech Republic, Cameroun and Nigeria.
On the continent, UCT's collaborations with African universities grew from 2.5% in 1990 to 7.0% in 2011, while those with Western European institutions grew moderately, from 46% to 49%, and those with North American universities rose from 20% to 28% during the same period.
"The big collaborating partners continue to be important" said Mouton. "These are Oxford, Harvard, Columbia, Imperial College London, and the London School of Hygiene & Tropical Medicine, and the University of Toronto.
"But there are new partners emerging: 'non-traditional' universities in Scandinavia and South America, and Japan."
Mouton used analysis generated at the University of Leiden to give some indication of shifts within UCT's international collaborations. He compared publication production in two periods (1990 to1997 and 1998 to2007) and measured the relative position of countries with contributing authors to UCT publications. He found noteworthy increases in collaboration with other countries on the African continent, countries in South-East Asia and eastern and northern Europe.
The most significant positive changes (confined to the top 50 ranks) in relative position were:
Uganda (+27)
Zambia (+27)
Thailand (+27)
South Korea (+26)
Hungary (+22)
Singapore (+18)
Peoples' Republic of China (+18)
Sweden (+12)
Czech Republic (+12)
Cameroun (+12)
Nigeria (+11)
In South Africa, most of UCT's collaborations have been with Stellenbosch University followed by the University of the Witwatersrand.
Leading faculties and quality publications
Between 2006 and 2011 the Faculty of Health Sciences was the clear leader in the number of publications produced which rose steadily over the period, with the Faculty of Science following.
Mouton's report identified four ISI fields where UCT does better than the international norm: archaeology, multidisciplinary studies, respiratory systems, sociology and anthropology.
The number of articles in the Institute for Scientific Information (ISI) journals produced has risen steadily from 1 042 (2006) to 1944 (2011). Close to 90% of UCT's publications were published in ISI journals.
"This is very significant because ISI journal output is a major determinant of position within global university ranking systems," said Mouton.
More authors
In 1990 there were 971 authors who contributed to the university's research publications output. By 2011 this tally had grown to 1 768 and included many authors employed on joint or provincial conditions. Some 763 articles were produced in 1990, a figure that climbed to 1 090 by 2011.
Although the University of Pretoria publishes more articles in peer-reviewed journals at present, UCT's 'active human capital base' used to generate research is smaller. Since 2005 the number of UCT staff actively publishing has grown by almost 100 a year (from 1 167 to 1 768), possibly attributable to the performance of UCT's research development programmes, particularly the Emerging Researcher Programme (ERP). In a similar time period, the rate of growth at UP was an additional 25 staff members per year contributing to research output.
Interesting facts
From a low base in 1990 of 5%, the most recent data (2011) show that nearly 22% of all article outputs are produced by black members of staff.
In 1990 17% of UCT's publications were authored by women. By 2011 this figure had risen to 33%. Men still author most publications. While men make up 54% of UCT's staff, they account for 68% of publications.
A major trend is that researchers younger than 30 increased their contribution from 4% to 7% between 2007 and 2011. Publications by those older than 70 rose from 2% to 4%.
Story by Helen Swingler, Picture by Raymond Botha
---
This work is licensed under a Creative Commons Attribution-NoDerivatives 4.0 International License.
Please view the republishing articles page for more information.
---