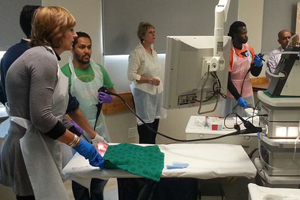 Practice makes perfect: Surgical registrars master the use of endoscopes by watching live streaming of an endoscopy at a remote site. Pigs' stomachs are then used in a hands-on practical session during which the students learn how to do it themselves.
It may have looked like business as usual at the Surgical Skills Training Centre at the Red Cross War Memorial Children's Hospital one cool winter morning last month, but for a pair of UCT clinicians hosting a historic basic endoscopy course, it was a red-letter day for academic teaching.
For the first time, the course included the live streaming of an upper endoscopy on a patient at Groote Schuur Hospital.
And so, when head of the Division of Gastroenterology Professor Sandie Thomson made his first move with the tiny but expensive endoscope he held in his hand, he was being watched by many more pairs of eyes than were present in the operating theatre. A group of surgical registrars in training at Red Cross had their eyes firmly fixed on their screens.
This exercise is part of the hands-on training course developed jointly by Thomson and the Division of Paediatric Surgery's new head, Professor Alp Numanoglu.
"Endoscopy is a minimally invasive medical procedure that examines interior organs. Endoscopes are thin tubes fitted with a light and a video camera, which allow diagnostic tissue sampling and a wide array of therapeutic interventions that reduce the need for major operations," explained Thomson. After the live link, the surgical registrars moved into a practical training session in the Surgical Skills Training Centre. Here they conducted endoscopies on pigs' stomachs, which were specially prepared for interventional endoscopy procedures.
"Endoscopy is largely confined to the major hospitals, which have unacceptably long waiting lists for these procedures. Part of this process is to ensure that we train the endoscopists properly in how to carry out the procedures. Currently, this includes the need to train for new hospitals coming on stream, like Mitchell's Plain," said Thomson.
Numanoglu is the driver and head of the skills training centre. Technology used in teaching does not only involve high-tech equipment in the skills centre, but is also used in distant teaching - such as the web-based education broadcast from the centre.
"The theatres here [Red Cross] are all linked up with lecture rooms. Today we can take surgery to and from many hospitals, such as Groote Schuur, for as few as six students or to a whole lecture room," said Thomson.
Numanoglu also hosts weekly open-access web-based broadcasts on paediatric surgery topics from Cape Town, with steadily growing numbers.
"Owing to the time zones, most of our attendees are from Africa and Europe, as well as from the Middle East. There's no doubt that there is a great need for training in Africa, and this is an excellent way of delivering the knowledge to and from the remote areas," said Numanoglu.
Technology the key to graduating more doctors, sharing skills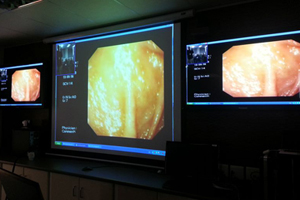 Inside out: A live-streamed endoscopy is one example of how technology is being used to increase the reach of medical training programmes.
One of eight medical schools in South Africa, UCT is under the whip to meet health minister Dr Aaron Motsoaledi's call for the country to increase its annual tally of 1 200 doctors, a number that's been deadlocked for a decade.
Technology will underpin UCT's plan to graduate more doctors in the long term, extending the reach of clinicians and teachers from operating theatres and wards to lecture theatres and off-site clinical skills facilities.
One way universities like UCT are accommodating bigger student numbers is through off-site training. Like other medical faculties, UCT has been training students 'at a distance' for some years, and is now harnessing innovations in live streaming and conferencing and the growth in global medical teaching networks on the internet.
The live streaming in June of an endoscopy on a patient at Groote Schuur Hospital to a group of surgical registrars at the Surgical Skills Training Centre housed at the Red Cross War Memorial Children's Hospital was not only a first for UCT, but illustrates how technology is contributing to clinical teaching (see article above).
"There are some areas where IT plays a great role in ensuring we reach students at remote sites," said Associate Professor Gonda Perez, deputy dean responsible for undergraduate education, operations and IT.
UCT produces an average of 180 medical graduates annually from a first-year intake of 200 students. In 2012 this figure increased by 20 students – short of the faculty's goal of 300 first-year students annually.
"This [goal] can happen only if there is space – both on the main campus and on the clinical platform," added Perez.
With a deficit of facilities, particularly tutorial rooms, the faculty has come up with novel ways of ensuring students can attend lectures, tutorials and laboratory sessions in relative comfort.
One solution was to introduce video conferencing between its two largest venues. "However, this is a limited solution and in the long term we are looking at the possibility of a new building to accommodate bigger classes," said Perez.
The second area of concern is the clinical platform. Next year the first batch of additional students admitted in 2012 will reach third year, and the beginning of their clinical rotations.
"We are investigating ways to address this to ensure the students' learning is not compromised," said Perez. " Technology allows some courses to be taught, via video conferencing, at remote sites, particularly at postgraduate level.
But expansion is also about reaching the rural areas, and most health sciences faculties have been doing this for a number of years, says Perez.
Coastal classroom
The health sciences faculty plans to expand the number of sites in and around Cape Town and beyond. To this end, the university has submitted a request to the provincial Department of Health for permission to establish a facility in the Eden District, with the secondary hospital at George as the centre of this hub.
This would follow in the footsteps of the off-site primary healthcare programme at Vredenburg Hospital on the West Coast, which has a video link to the main campus. Students are accommodated in living quarters in the town.
The faculty has invested "quite a bit" in ensuring quality teaching and a good student experience (similar to that in lecture theatres) at this site, adds Perez, and feedback from students and the community has been very good.
Off-site training has also expanded services that are limited in rural centres like Vredenburg, where the faculty has introduced an audiology service through teaching students there.
"We need to provide the right technology. We've seen it work in Vredenburg, where students are placed for four-week to six-week blocks."
Story by Helen Swingler
---
This work is licensed under a Creative Commons Attribution-NoDerivatives 4.0 International License.
Please view the republishing articles page for more information.
---