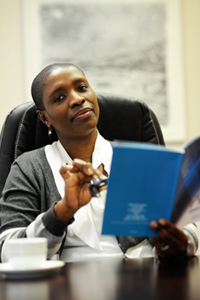 Report back: Ombud Zetu Makamandela-Mguqulwa looks through the latest annual report from the Ombud's office
The rising number of people using the Ombud's Office in the past 14 months reflected a growing acceptance by the UCT community that it was "a resource where people can be heard", said Ombud Officer Zetu Makamandela-Mguqulwa.
This follows the release of their second annual report.
Safe space
The Ombud's Office was opened in 2011 as a safe and informal space for the UCT community to be heard and offers an alternative to other formal means of dispute resolution at the university.
"The existence of the Ombud's Office is itself an expression that the university cares and is willing to invest in alternative dispute resolution," Makamandela-Mguqulwa said. "A lot has happened in these two years; some people slept better, money was saved, various careers progressed and the office was able to create better understanding between work colleagues and students."
Issues raised in the period under review were grouped into nine categories. Of these, 196 concerns were listed in the Evaluative Relationships category; 72 in the Organisational, Strategic, and Mission Related grouping, and 71 in the Values, Ethics and Standards category.
Conflict skills needed
Relationship concerns were cited most among the 642 matters raised by visitors (other than outsourced staff) to the Ombud's Office in the past year, and 40% of all matters brought to the office were rooted in relationship conflict, the report said.
"The university could learn through developing its conflict management capabilities and improving communication at all levels. Teaching the UCT community how to be conflict-competent would improve discourse on campus," added Makamandela-Mguqulwa.
Satellite campuses
Another challenge is that satellite campuses used the facility less.
"If people don't know I exist on campus, I need to introduce myself in person," said Makamandela-Mguqulwa. "But if travel is a challenge, careful thought needs to be given to whether the service can be brought to them without compromising confidentiality and independence."
Other key points
The Ombud's Office dealt with 260 cases, involving 441 initiating individuals (people who visited the office) and a further 563 individuals
30 of the 441 visitors were outsourced staff
PASS staff accounted for 40% of the visitors, academics 22%, external people 17%, students 15%, and service providers 7%. '˜External people' refers to retirees, alumni, parents, spouses of staff, members of the public, potential students, and people who visit the university
There was an even spread of visitors from the black, coloured and white population groups, with a smaller number of international and Indian visitors.
Read the 2012 annual report (in English, Afrikaans, or isiXhosa) from the office of the Ombud
Story by Helen Swingler, picture by Jenine May
---
This work is licensed under a Creative Commons Attribution-NoDerivatives 4.0 International License.
Please view the republishing articles page for more information.
---