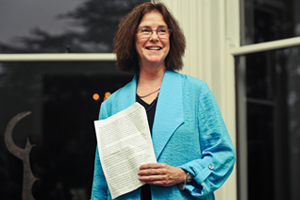 Goodbye, for now: The outgoing dean of CHED, Professor Nan Yeld, shared tales about her decades-long UCT career at an official farewell at Glenara on 12 June.
Professor Nan Yeld, the outgoing dean of UCT's Centre for Higher Education Development (CHED) will return to her research career but not before a well-earned sabbatical.
Her decade-long contribution as dean was honoured at an official farewell on 12 June.
Yeld will begin her sabbatical once her term ends on 30 June, and already has a packed schedule.
"I plan to write the book I've been meaning to write for ages, which is about admissions issues in a context of national development," said Yeld.
Yeld's research concerns identifying and developing academics from among young scholars whose educational background may obscure their true potential.
To an assembly of senior staff at his official Glenara residence, Vice-Chancellor Dr Max Price and colleagues raised a glass to Yeld, who completes her second and final term as dean this month.
"The success that Nan has had at CHED is really a tribute [to her]," said Price. "I suspect many would have betted against her getting a second term when she first took over, and the fact that she did with such rousing endorsement from CHED signalled what a good job she was doing there."
Price praised Yeld's key role in building CHED into an institution that he said was one of the key manifestations of UCT's seriousness about education development. Yeld's tenure as dean, related Price, included overseeing the establishment of the Centre for Open Learning, and was perhaps best characterised by her "willingness to take risks" in terms of the projects her faculty undertook.
Yeld obtained her first degree from UCT in 1978. Going on to complete an MEd and PhD in education at UCT, Yeld was a member of the university's faculty in various capacities since the early 1980s. She was appointed the dean of CHED in 2003, taking over from Professor Martin Hall. Yeld also served as acting Deputy Vice-Chancellor in Jo Beall's stead from 1 May to 31 December 2011.
Yeld's academic career included stints as a Senior Africa Fulbright Scholar at the Educational Testing Service at Princeton University from 1999 through 2000 and as a Nelson Mandela Fellow at WEB Du Bois Institute for Afro-American Studies at Harvard University from 2002 through 2003.
Registrar Hugh Amoore shared an abiding memory of Yeld as a student dying part of her hair pink, so that when she graduated, it would match the colour of her hood (education was still a fully-fledged faculty at the time, and pink was its official colour).
Yeld thanked the two vice-chancellors present - Price and Emeritus Professor Stuart Saunders - for their significant impact on her and, ultimately, CHED's work.
(Yusuf Omar )
---
This work is licensed under a Creative Commons Attribution-NoDerivatives 4.0 International License.
Please view the republishing articles page for more information.
---