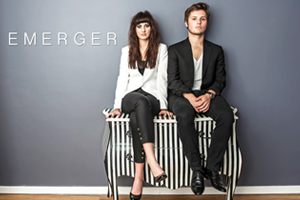 Emerging talents: Gerrit Matthee and Emma de Goede won an international song competition hosted by some of the biggest names in the music industry.
"Musically dynamic and refined."
This is how audio production giant Avid described the sound of Break & Fall, a song written and performed by two UCT music students and which won a prestigious international competition,- beating out close to 5 000 other pop hopefuls from across the world.
Emma de Goede (first-year BMus in jazz performance) and Gerrit Matthee (third-year BMus in Composition), who entered as their pop rock alter ego Emerger, were praised by industry professionals and competition judges after winning the Get Discovered song contest.
With lyrics written by De Goede and music composed by Matthee - Break & Fall - was adjudged top of thousands of entries, representing the hopes and dreams of musicians, producers and songwriters from around the world.
The competition, was hosted by Avid, the largest manufacturer of audio software and hardware, in partnership with the famous Abbey Road Studios.
The track (each entrant was allowed one song) fuses classical influences with catchy melodies and was produced by Neil Basson, an alumnus of UCT's School of Architecture, Planning and Geomatics, who produces music professionally for Contour Productions. The duo also benefitted from final mixing and additional production by David Langemann, who engineered Freshlyground's latest album, Take Me to the Dance, to great critical acclaim.
"Recording the song was a great experience," says Matthee. "The recording, production and mixing of a song can make the difference between sounding like amateurs or professionals."
John Feldman, the producer of Good Charlotte and Goldfinger fame, and one of three world-renowned judges, said: "[Emerger] have a great cinematic landscape to their music. They have a good image and provide a good example of what modern music can be. The producer did a great job on the track. The singer [De Goede] has a great voice and seems like she would be a good front woman."
De Goede and Matthee won a top-of-the-range Pro Tools HD Native recording system from Avid and will have their song mixed and mastered by Abbey Road's Online Mixing and Mastering Services. The duo is primarily focused on their studies, but will continue to write and record more material in their free time, working towards an official release.
Matthee says that he and De Goede saw the competition as the ideal opportunity to be heard by industry professionals.
"As one of the judges, Greg Wells, commented: 'The hardest thing for an aspiring musician is to get their songs heard by the right people, and this competition is the perfect way for artists to get their music out there'.
"Seeing that the three judges are very well known producers and A&R (artists and repertoire) guys for major labels, we knew that if they liked our song it would not only mean a lot for our confidence as musicians, but also possibly create great opportunities in the future."
Co-writing Break & Fall with De Goede was a lot of fun reported Matthee, praising the synergy between the two artists' styles.
"We understand each other's way of thinking musically and we share an almost exact taste in music."
A version of the track is available here.
---
This work is licensed under a Creative Commons Attribution-NoDerivatives 4.0 International License.
Please view the republishing articles page for more information.
---