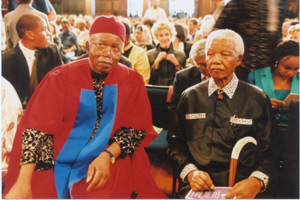 Things fall apart: acclaimed Nigerian author, dubbed the "grandfather of modern African literature", and international scholar, Chinua Achebe, who died on 22 March, aged 82, is seen here with former President Nelson Mandela, at a special graduation ceremony in September 2012. UCT's chancellor, Graça Machel, conferred an honorary Doctor of Literature degree on Achebe at the ceremony. On May 24, Africa Month @ UCT presents a discussion in the series "Celebrating Chinua Achebe: Life, Works and Ideas" on the theme "Things Fall Apart?"
Africa Month at UCT is packed with things to do, people to meet and great experiences to be shared. These are some of the highlights from now until the end of May:
23 May
Transforming a continent
"To some, Africa is disappointing as much as it is promising - disappointing in the sense that although it has massive potential, we do not seem to know how best to unlock it." This is the view of Shadreck Chirikure, senior lecturer in the Department of Archaeology and convener of the May 23 round table discussion on Afropolitan research opportunities and constraints: creating knowledge for transforming and empowering Africa. But, he adds, "Africa is promising in that there are so many avenues that can be explored, thereby transforming the continent into a competitive global knowledge producer". The discussion will be hosted by UCT's Research Office and the International Academic Programmes Office (IAPO). One of the speakers is Professor Ambroise Wonkam, from the Division of Human Genetics in the Faculty of Health Sciences.
May 24
The big debate - and more
UCT acting Vice-Chancellor Professor Thandabantu Nhlapo has sent out an invitation to two events to commemorate the 50th anniversary of African unity, and to close the Africa Month Exhibition.
Panel discussion - the Big African Debate
To launch the monthly Africa-focus public discussion series Café Africa: the debates, a UCT collaboration presents a discussion in the series "Celebrating Chinua Achebe: Life, Works and Ideas" on the theme "Things Fall Apart?" on May 24.
The panellists are Francis Nyamnjoh, - Head of Section: Social Anthropology, in the School of African and Gender Studies, Anthropology and Linguistics, UCT; Zodwa Motsa, Country Director: University of South Africa, Ethiopia; Jane Bennett, Head of School: African and Gender Studies, Anthropology and Linguistics, UCT; Sanya Osha, Research Fellow: Institute of Economic Research on Innovation, Tshwane University of Technology and Emma Arogundade, Senior Researcher: Human Sciences Research Council.
The debate will be held at the Golden Arrow Studio at the Baxter Theatre Centre between 16:00-18:00.
Book launch
The second collection in the publication series "Celebrating Africa" will be launched after the panel discussion. The book is a compilation of the papers presented at the Africa Day Panel Discussion in 2012 under the title "African Culture, Human Rights and Modern Constitutions".
Africa Month cocktail party
The closing cocktail party is the traditional farewell to Africa Month @ UCT and features many highlights, this year including:
Musical performance by Selahcity African Jazz
Performances by the UCT Choir for Africa and the Law Faculty choir
African dress competition
African cuisine and drinks
The cocktail party will be on the mezzanine level of the Baxter between 18:00-20:00.
May 24
Film
Mama Goema: the Cape Town beat in five movements
Weaving together the ancient, the traditional and the classical into a contemporary universal Cape Town sound, Mac MacKenzie, composer and founder of The Genuines and The Goema Captains of Cape Town, puts the finishing touches to his life's work - Goema in Five Movements. The Khoisan lament, the sounds of the Cape Malay, European orchestrals, the clash of marching bands, the rhythm of the Klopse, and the driving beat of the goema drums are combined with musical virtuosity and humour to create a distinctive Cape Town sound.
While the Cape Town Goema Orchestra rehearses for its premiere, musicians and commentators such as Hilton Schilder, Neo Muyanga, Iain Harris, Graham Arendse, Kyle Shepherd and Shane Cooper provide context and history.
The screening takes place at the Ulwazi Training Room, Knowledge Commons, Chancellor Oppenheimer Library at 13:00.
25 May
Fine Arts
Jenny Parsons exhibition at Irma Stern
Observing Africa Month means celebrating our vast African landscape across different types of media in fine arts.
An exhibition launched at the Irma Stern Museum, Against the Light by artist Jenny Parsons, features landscape paintings and drawings of the Cape's treasure trove of fynbos.
Her work explores the early morning light on the fynbos-covered hillsides of Silvermine Nature Reserve. The exhibition opened on May 4 and runs until May 25.
May 31
Film
The Ikon South Africa: short documentary showcase is screening five short documentaries at the Ulwazi Training Room, Knowledge Commons, Chancellor Oppenheimer Library on May 31. They are:
Native yard 1
3 mins
Director: Ntombi Mzamane
On the eve of its name change, residents of Gugulethu share their thoughts and feelings on their suburb's busiest street with its taxis, cattle, donkey carts, young hipsters and senior citizens.
Gemaakte Hare
7 mins
Director: Brenda Davis
For Lameex Peters, growing up in a Muslim and Christian family meant having to conform to prescriptive religious notions of behaviour and appearance. Her dreadlocks have now become her warrior's weapon against racial and cultural stereotyping.
Biko's Children
14 mins
Director: Vuyise Breeze Yoko
The filmmaker goes in search of Steve Biko, using his philosophy to persuade today's generation to reflect on their situation. Two young South Africans who use Biko's image to earn their bread and butter are forced look at his teachings and engage in conversation with their "father".
Amina my daughter
15 mins
Makela Pululu
A dialogue between a father and daughter, this film looks at how refugee families are coping with their children's new experiences of identity.
Pam & Ashraf
15 mins
Director: Robyn Rorke
An exploration of the lives of a couple born poor on the Cape Flats who, when apartheid ended, decided to become revolutionaries and continue the fight for the poor in South Africa's new democracy.
All the screenings are between 13:00-14:00.
---
This work is licensed under a Creative Commons Attribution-NoDerivatives 4.0 International License.
Please view the republishing articles page for more information.
---