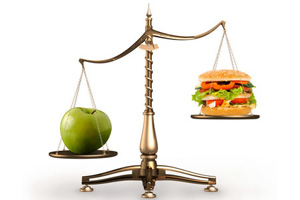 A balanced diet: The scientists disagreed on what constituted healthy eating.
View the presentations and the video of the debate.
Sparks flew on UCT's Medical Campus on 6 December when two internationally-renowned medical scholars talked cholesterol and diet.
Described as "The Great Centenary Debate" by the dean of UCT's Faculty of Health Sciences, Professor Marian Jacobs, the showdown saw Professor Timothy Noakes and Dr Jacques Rossouw rip into each other's ideas (and sometimes into each other) around the debate title: Cholesterol is not an important factor for heart disease and current dietary recommendations do even more harm than good.
Noakes, director of the UCT/Medical Research Council (MRC) Research Unit for Exercise Science and Sports Medicine and Discovery Health professor of exercise and sports science, threw a cat among the pigeons when he published his autobiography, Challenging Beliefs: Memoirs of a Career, in 2011. The book contained a chapter debunking conventional medical wisdom about a healthy diet being one low in fat, high in protein and high in carbohydrates from whole grains.
Much of that conventional wisdom had been advocated by Noakes himself, he admitted, in publications such as his beloved Lore of Running.
In his memoir and at the debate, Noakes presented arguments that suggested much of the research that advocated a low-fat, high-carb diet contained holes too big to ignore. Notions that coronary heart disease (CHD) was caused primarily by a high-fat diet were based on incomprehensive and sometimes unsound research, he said; to the point that he questioned whether medical specialists are teaching on "blind faith, on dogma" rather than on rigorous and self-critical research.
He argued instead that high insulin levels could be shown to have a stronger causal link with CHD than high cholesterol levels (but not that cholesterol levels is an entirely insignificant risk factor in CHD).
Crucial to Noakes' argument was that the low-carb, high-fat diet he prescribed was applicable only to individuals with a condition called carbohydrate-intolerance, or CI. CI, explained Noakes, inhibits the body from properly assimilating these compounds and triggers a "hibernation response", causing the body to store energy in the form of fat.
True to form, the medical fraternity has largely taken exception to his theory. In the challenger's corner, Rossouw passionately countered with research that suggested a solid causal link between CHD and a high cholesterol levels caused by a high-fat diet.
While not dismissing a causal link between high insulin levels (and other risk factors) and CHD completely, Rossouw remained unconvinced that this - and not fatty foods - was the primary cause of CHD.
A major sticking point between Noakes and Rossouw was the prevalence of carbohydrate-intolerance in humans.
Rossouw was adamant that current methods of testing for CI were sound and as accurate as one could hope for, and that only about 6% of people suffer from CI. Noakes suggested that the testing methods needed reviewing, when as many as 70% of people could be living with CI without realising it.
Both scientists agreed, however, that individuals should develop their own nutritional plans based on their specific circumstances, and not rely on general wisdoms about healthy eating.
---
This work is licensed under a Creative Commons Attribution-NoDerivatives 4.0 International License.
Please view the republishing articles page for more information.
---