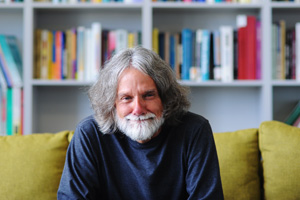 Bringing his A-game: Prof Harold Kincaid, at UCT since June, has broken new ground with his A-rating.
The headline kind of lets the cat out of the bag - South Africa has its first A-rated scientist from a commerce faculty.
This after recent appointee to UCT's School of Economics, Professor Harold Kincaid, was awarded an A-rating by the National Research Foundation (NRF) in its latest round of evaluations. That marks Kincaid as an international leader in his field.
Equally impressive is that Kincaid managed this rating on his first application, following his recent move to UCT from the University of Alabama at Birmingham, US, where he had been professor of philosophy and epidemiology.
The rating shouldn't come as too much of a surprise though, not in the light of Kincaid's scholarly résumé and his international standing; his writing serves as a "touchstone" in some areas of study, noted one reviewer. Broadly, he has focused on the methodologies of social science and has published on a whole host of related topics, including causal modelling, the philosophy of social science, the role of explanation as a concept in social sciences, and medical models of addiction.
Right now, he says, he's interest is in how social scientists infer causes and correlations. "My main focus has been on trying to sort good science from bad science."
That last category reflects some of Kincaid's recent work at UCT. He has contributed to a few projects with the Research Unit in Behavioural Economics and Neuroeconomics (RUBEN), an interdisciplinary group of researchers in the School of Economics who use economic experiments to examine the role that social, cognitive and emotional factors play in economic decision-making. (In 2011, he also acted as a mentor on UCT's Visiting and Retired Scholars Mentorship Project.)
At RUBEN, Kincaid has been involved in studies looking at the prevalence of gambling in South Africa, and at problem gamblers and at-risk gamblers. (He starts off his Monday Paper interviews with amusing anecdotes of gamblers, both here and in the US, who wear adult nappies just so they don't have to abandon their slot machines at what they imagine to be crucial times; and of one gambler who, after he and others were ordered by armed robbers to lie down on the ground, kept working away at the lever of his machine from his prone position.)
There are particular dynamics to local gambling, explains Kincaid. In South Africa, it's by and large the poor who have serious gambling problems. And shying away from casinos, they instead stake their money on informal and illegal enterprises like dice and card games, and the lotto-like numbers game called iFafi.
He's also working on a project, funded by the NRF, that is looking at the risk behaviour of fruit farmers, this with an eye on encouraging innovation in the industry.
Kincaid's lead collaborator on these studies has been his longstanding associate Professor Don Ross, Dean of the Faculty of Commerce and the one who lured him to UCT. Together the scholars have worked on a sweep of books, reports, papers and chapters, notably around addiction and decision-making. (They also co-wrote a book on the philosophy of economics.)
He didn't think too hard before deciding to make the cross-Atlantic trek to South Africa, says Kincaid, who joined the university in June this year. The appeal included the School of Economics' focus on practical problems, UCT's international profile and its concern with development and equity issues (an area he has an ongoing interest in).
"And Cape Town is a beautiful place," he adds.
Ross is particularly pleased with hosting the country's first A-rated commerce scholar.
"The ratings outcome is testament to the faculty's and the university's ability to draw top international talent," he says. "And of course we congratulate Prof Kincaid in addition to ourselves!"
---
This work is licensed under a Creative Commons Attribution-NoDerivatives 4.0 International License.
Please view the republishing articles page for more information.
---