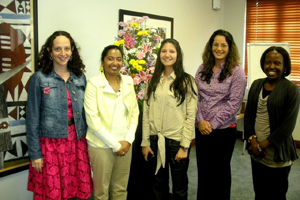 Leading the way: From left, HAICU's Cal Volks, Lucina Reddy, Zaaida Vallie, Sianne Abrahams and Stella Kyobula-Mukoza at the HEAIDS conference.
Higher Education HIV/AIDS Programme (HEAIDS), a division of Higher Education South Africa (HESA), is holding a conference at UCT, titled Researching the Applied and Applying the Research, which runs from 28 to 30 November.
UCT's HIV/AIDS Institutional Co-ordination Unit (HAICU) is responsible for co-ordinating the UCT policy, curriculum and co-curriculum response, and has had a number of papers accepted by peer review on several relevant topics. HAICU staff will be presenting these papers at the conference.
Director Cal Volks is talking on why HIV/AIDS should be addressed at a university under the transformation portfolio, as it is at UCT. Volks has been conducting research with students living with HIV at UCT, and exploring whether their experience of the UCT environment is an inclusive one.
Lucina Reddy, project officer at HAICU, is presenting on a curriculum project executed with Fabian Saptouw of UCT's Michaelis School of Fine Art. Data on UCT students' perceptions and behaviour around sexual concurrency and HIV risk informed the art installations, produced by UCT art students, for a co-curricula awareness event on the campus in August this year.
In turn, Stella Kyobula-Mukoza, also a project officer at HAICU, is presenting an evaluation of the UCT HIV Testing Drive, a crucial element as HIV/AIDS funding has been cut across the board.
Project officer Sianne Abrahams has been working on a model that could be applied to the process of HIV/AIDS curriculum integration at UCT. Abrahams has also been invited to talk at the Higher Education Learning and Teaching Association of South Africa (HELTASA) Conference at Stellenbosch University in November.
Professor Pierre De Vos of the Faculty of Law also gave the keynote address at a World AIDS Day event on 28 November.
The HEAIDS conference will also be an opportunity for HAICU to release a provisional 2012 report.
---
This work is licensed under a Creative Commons Attribution-NoDerivatives 4.0 International License.
Please view the republishing articles page for more information.
---