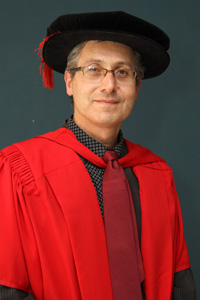 New immunology: in his inaugural lecture, Prof Clive Gray spoke of new ways to look at the immune system and vaccines for HIV. Listen to the podcast.
The immune system has always fascinated Professor Clive Gray - even from the age of seven, when his mother told him he had little soldiers inside his body protecting him from the' flu.
He has since heard a few more versions of how the immune system works, as he explained in his inaugural lecture, Moving Targets: HIV and the immune system; in search of self-preservation, delivered at UCT on 31 October.
In his undergraduate studies in the UK, Gray was fascinated by the theory of Nobel Laureate Niels Jerne, who held that the immune system works as a network of antibodies creating a mirror image of the offending antigen. He then became captivated by the central role of the major histocompatibility complex, which allows discrimination between self and non-self, or foreign.
At Wits University, where he went in 1985 for his MSc and PhD studies, Gray developed his understanding of immunological tolerance: a process in which the immune system fails to or 'chooses' not to launch an attack on an antigen. Here, he worked on ways to induce immunological tolerance to kidney transplants.
It was at the National Institute for Virology (later the National Institute for Communicable Diseases) that he first ventured into HIV research, in 1994. He then spent three years at Stanford University, where he examined the plasticity of immunity to HIV. He returned to the NIV and established an internationally respected HIV-immunology laboratory, where he and others explored aspects of T-cell immunity associated with viral control or disease progression.
In his lecture, Gray showed how there is a close relationship between the virus, being a moving target for the immune system, and how the CD4 cell is a moving target for HIV. This tight interplay of moving targets is established at the point of initial infection - ground zero. By studying the immune events during acute infection, valuable insights have been gained into understanding the course of disease.
It would appear that the patterns of CD8 T-cells targeting HIV are all-important. If these cells target portions of the virus that are conserved, then that may help slow down disease progression. However, when CD8 cells target parts of HIV that can mutate - the virus escapes the immune response. Thus, the moving viral target may not be good for the infected host.
Gray later turned to the issue of 'self-preservation'. This, he explained, is when there is peaceful co-existence between pathogen and host.
An example is found in HIV's primate cousin, SIV. It's well known that Sooty Mangebeys - a monkey found in forests from Senegal east to Ghana - can live "peacefully" with the virus without disease, Gray explained. It's also known that another monkey, the Macaque, succumbs to disease when infected with SIV.
The distinguishing feature is immune activation.
"It is often the case that the immune system does more harm than good when it over-responds," Gray explained.
Thus a line could be drawn between peaceful co-existence and pathology, the "yin and yang of immunology," said Gray.
"We are all focused on the yang, which is activation. We're all looking at immune activation and how this is related to disease."
Perhaps, he noted, it's time to begin paying some attention to the yin. In this case, yin would be tolerance - the ability of the host to survive and function despite infection.
In concluding his lecture, Gray asked whether a vaccine of the future should perhaps induce tolerance rather than activate anti-HIV immunity.
"This may seem counterintuitive; it may even seem heretical to say this," he concluded.
It is this line of enquiry that Gray continues to pursue with colleagues at UCT's Division of Immunology (in the Department of Clinical Laboratory Sciences) and the Institute of Infectious Disease and Molecular Medicine.
For this, he is focusing on new human models in order to examine immune regulation and tolerance mechanisms.
---
This work is licensed under a Creative Commons Attribution-NoDerivatives 4.0 International License.
Please view the republishing articles page for more information.
---