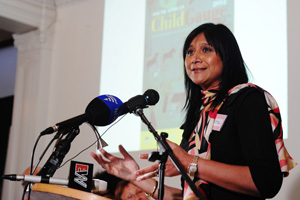 Associate Professor Shanaaz Mathews is the new director of UCT's Children's Institute following the retirement of Professor Shirley Pendlebury. She spoke with Monday Paper.
MP: Can you describe your areas of research, and some recent studies?
SM: My initial research focused on the Domestic Violence Act and the budget allocation for its implementation; and subsequently, an evaluation of its impact. While at the Medical Research Council I lead a national epidemiological study on intimate femicide that provided us with a statistic which is commonly cited; "a woman is killed every six hours by an intimate partner". This was followed by a qualitative study of men in prison who had killed an intimate partner, which gave us an understanding of pathways to violent masculinities. I have also explored the psychological adjustment of children after sexual assault, and most recently I conducted a national study on child homicide and its link to child abuse.
MP: How did your career path prepare you for the position as Children's Institute (CI) director?
SM: I started my career as a clinical social worker at the Red Cross Children's Hospital, with a focus on child abuse. This allowed me to develop insight into the needs of children and their families. I have combined this with working on policy development and advocacy in civil society. Having been active in leadership positions within structures such as the Network on Violence Against Women has developed my strategic leadership skills. This, combined with my solid training as a scientific researcher, gave me the ideal background to lead an organisation such as the CI.
MP: How will your research add value and complement the CI's work?
SM: My research on children and violence will strengthen the child-protection focus of the CI. The child-homicide study has quantified the problem of fatal child abuse, and will provide a platform for the CI to advocate for the strengthening of child protection services. My experience of combining scientific methods and socially responsive research will strengthen the research evidence of the CI.
MP: What is your vision for the CI?
SM: My vision is for the CI to be positioned as the leading research and advocacy institute on child rights in South Africa, and to broaden its influence beyond our borders through supporting collaborative work within the region.
MP: Why is socially responsive research so important for the CI?
SM: UCT has a strategic goal to respond to the developmental challenges facing South Africa. The CI's research resonates with this, as our research has a direct focus on influencing and improve the daily experiences of children through shifts in policy and practice.
---
This work is licensed under a Creative Commons Attribution-NoDerivatives 4.0 International License.
Please view the republishing articles page for more information.
---