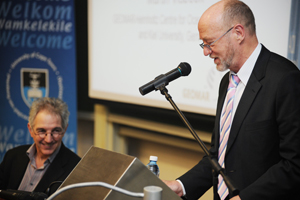 Change is good: Science and Technology Minister Derek Hanekom was among the panellists at a recent UCT workshop on sustainability.
It was a full house of speakers at the panel discussion on sustainability at UCT on 1 November, with no fewer than eight panellists from diverse disciplines holding court.
That may just be an answer to the sustainability challenges facing the world -experts from across a broad spectrum of perspectives working together to find solutions, suggested Professor Martin Visbeck of the University of Kiel in Germany.
"We believe co-design and co-production of knowledge is a new way going forward, where we bring in not just academics from UCT, but also the practitioners, people who make decisions on the ground, the civil society, to together ask what are the burning questions and how to get information."
As vice-chancellor Dr Max Price indicated in his welcome address, the purpose of the event was to look at how Future Earth, a new international research initiative of which Visbeck is a member, can tackle global sustainability challenges in partnership with existing international environmental networks.
Future Earth was launched in June 2012 at the Rio+20 Earth Summit as an innovative 10-year global research programme to act as a sort of clearing house for sustainability solutions for government, business and society. The initiative is embarking on a series of workshops around the world to help set a research agenda around climate change and sustainability, and the Cape Town conference was the first of such events.
Science and Technology Minister Derek Hanekom highlighted problems facing Sub-Sahara Africa. Among them is the fact that a third of people living with HIV/AIDS globally come from the region, the life expectancy in the region is 41 compared to a global average of 67, and in South Africa 70% of fresh water is used for agriculture, "restraining our planet's resources".
"These are huge challenges; we have to rise to these challenges,"Hanekom noted.
"The future of humankind depends on actions we take now; this is what Future Earth is all about."
Hanekom said sustainability is the biggest research challenge, and has to translate into policy and behavioural change.
"We really need to look at different, radical ways of doing things. The starting point is knowledge and awareness."
The event was chaired by Professor Mark New, pro vice-chancellor for climate change at UCT, and panellists were colleagues Professors Harald Winkler and Harro von Blottnitz, as well as Professor Mark Swilling and Dr Camaren Peter of the University of Stellenbosch, Tanya Abrahamse of the South African National Biodiversity Research Institute, and Kobie Brand of ICLEI Africa, the international association for governments and government organisations that have committed themselves to sustainable development.
---
This work is licensed under a Creative Commons Attribution-NoDerivatives 4.0 International License.
Please view the republishing articles page for more information.
---