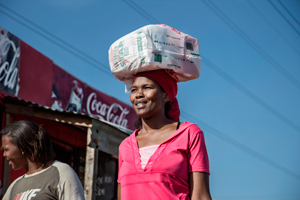 Missing the mark: Local marketers inadvertently overlook the majority of SA consumers despite their significant collective spending power, according to the findings of the Majority Report recently released by the UCT Unilever Institute of Strategic Marketing.
The vast majority of South African households regularly run out of money before month's end, sometimes skip meals, and are often forced to borrow money to keep their heads above water.
These are among of the findings of The Majority Report, the UCT Unilever Institute of Strategic Marketing's recently released research on South Africa's mass market - the 21.5 million adults and 14.5 million children who live in households earning R5,000 or less a month. A year in the making, this comprehensive study explores the spending habits of this group who represent 70% of the population and spend an estimated R220 billion annually.
Using longitudinal quantitative studies, as well as a range of up-to-date qualitative research methodologies, the UCT Unilever researchers discovered a fragmented market in which consumers are constantly moving between the formal and informal sectors.
Despite this market's collective spending power, the research shows this massive segment is inadvertently overlooked by local marketers who are failing to connect with the majority of South African consumers.
While brands like Coca-Cola are performing exceptionally well in this market, other major brands are under-represented or even absent, explains Professor John Simpson, Unilever director. "This stems from marketers' misconception that it is time-consuming, and ultimately not profitable, to engage with the mass market. So over the years most marketers have been removed - both physically and emotionally - from this market."
---
This work is licensed under a Creative Commons Attribution-NoDerivatives 4.0 International License.
Please view the republishing articles page for more information.
---