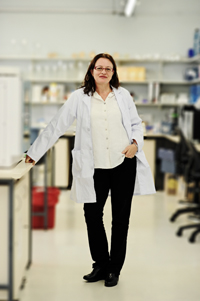 New ground: Prof Carolyn Williamson is part of a team of scientists investigating a new approach to developing an AIDS vaccine.
UCT's Professor Carolyn Williamson is one of the lead investigators on a ground-breaking study that has discovered an important new approach for developing an AIDS vaccine.
Williamson, of the Divison of Medical Virology and the Institute of Infectious Diseases and Molecular Medicine in the Faculty of Health Sciences, is part of a Centre for the AIDS Programme of Research in South Africa (CAPRISA) consortium that has conducted the research over the past five years.
The study, published in the latest Nature Medicine journal, describes how a unique change in the outer covering of the virus, found in two HIV-infected South African women, enabled them to make potent antibodies that are able to kill up to 88% of HIV types from around the world.
Through long-term follow-up laboratory studies on these two women, the investigation team discovered that a sugar (known as a glycan) on the surface protein coat of the virus at a specific position (referred to as position 332) forms a site of vulnerability in the virus and enables the body to mount a broadly neutralising antibody response.
Williamson, who has a joint appointment with the National Health Laboratory Service, noted that HIV is a rapidly evolving virus and, as a result, the viruses circulating in the world have diversified into many different subtypes.
"One of the biggest obstacles in HIV research is to make vaccines that can elicit antibodies - called broadly neutralising antibodies - that would prevent infection with any one of these subtypes."
In this study, Williamson continued, potent antibodies were identified that could effectively block nearly 90% of viruses tested, including viruses from Africa, America, Europe and Asia.
"The advancement made in this paper is that a mechanism was identified on how these antibodies evolve in HIV infected people, and this is important as it can provide us with clues on how to design vaccines what could generate these types of responses."
UCT members who contributed to the study are post-graduate students Daniel Sheward and Melissa-Rose Abrahams, as well as post-doctoral fellow Nobubelo Ngandu.
---
This work is licensed under a Creative Commons Attribution-NoDerivatives 4.0 International License.
Please view the republishing articles page for more information.
---