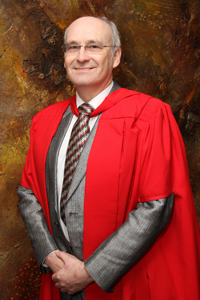 Staying ahead of the game: At his inaugural lecture, Prof David Britton called on scientists to keep the innovation chain when developing new products.
It was clear from the title of his talk, Nanoscience, Nanotechnology, and Nanovation, that Professor David Britton had a lot to explain in his inaugural lecture, delivered at UCT on 17 October.
And he did not disappoint.
Nanoscience, Britton started, is the basic and applied research into nanostructured materials and nanoscale processes. By comparison, nanotechnology is applied research and development using nanoscale materials and nanoscale processes. And lastly but by no means leastly, nanovation is social and commercial innovation enabled by nanotechnology and founded on nanoscience.
In brief, this is the kind of work Britton, past chair of the South African Nanotechnology Initiative, and his team have been doing at UCT these past 10 years. Those efforts led to the formation of UCT's NanoSciences Innovation Centre two years ago, of which he is the founding director, alongside long-standing collaborator, Professor Margit Härting.
The centre, based in the Department of Physics, is the principal hub of the USAID-funded Nano-Power Africa Network. This partnership spreads over four African countries, and aims to build research capacity and promote entrepreneurship through collaborative research, its ultimate objective to develop an indigenous solar-cell technology.
As a technical director of PST Sensors, a spin-out company from UCT, Britton helmed the development of the company's first products - printed silicon temperature sensors.
To achieve these, Britton says they had to get the "innovation chain" right.
The first step is to make something that someone wants, he said.
"The old story about building a better mouse trap and the world will beat a path to your door, won't work," he warned. "Most intelligent, sensible people have cats."
Also, scientists have to understand the basics of science.
"There is no point trying to develop something without knowing how it works, not if you're going to new territory."
And scientists need to collaborate with other role players and be innovative, he advised.
"One thing that is fatal when it comes to development and innovation is just copying."
He learnt this from bitter experience, he noted.
"When we developed printed silicon transistors we had a new material, knew how it works, but tried to copy the technology that was used for the normal thin film silicon. It didn't work, and after a long time we had to go back to basics."
Britton and his team are now working on commercial and social innovations. One of the devices they are developing is a time-temperature tag for food and pharmaceutical products. They have also embarked on a project to roll out low-cost solar cells in the other African countries, starting with Botswana, Ethiopia and Rwanda.
Download the podcast of Prof David Britton's inaugural lecture.
---
This work is licensed under a Creative Commons Attribution-NoDerivatives 4.0 International License.
Please view the republishing articles page for more information.
---