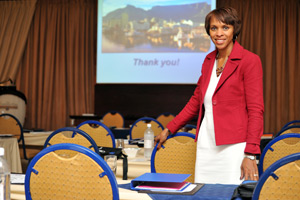 Support structures: Dr Regina Smith James has joined research administrators in Cape Town to speak about how to manage (and receive) international research funding.
To the untrained eye, the management of research funds and funding calls for no more than spending money and filing the paperwork.
Those in the profession - one that is increasingly being professionalised, as research funding is sought from and received from a growing number of international sources - know just how misguided that perception is. Last week, a small band of research managers and administrators from UCT, Mbarara University of Science and Technology in Uganda, Kenya's Moi University and the University of Zambia hosted a skills-building workshop in Cape Town. Here these hosts - all current and former recipients of International Extramural Associate Research Development Awards (IEARDA) and Research and Innovation Management (iRIM) supplementary grants from the NIH, presented by the National Institutes of Health (NIH) in the US - gathered other research managers and administrators from 22 universities in 15 African countries.
They then passed on the lessons they'd learned from the time they'd spent at the NIH - a major UCT supporter - in Washington, soaking up the policies, processes and procedures of NIH funding. There were also some special guests at the workshop, including Dr Regina Smith James, director of the Division of Special Populations at the NIH's Eunice Kennedy Shriver National Institute of Child Health & Human Development (NICHD). Here, James is involved in (among other things) providing training to and building capacity at institutions both in the US and elsewhere, creating opportunities for these facilities to play a bigger role in biomedical research. Monday Paper spoke to James about NIH funding and the skills that research managers and administrators need.
MP: What is the purpose of the training and funding (such as the Biomedical/Behavioural Research Administrators Development Award, or BRAD, which Wilna Venter, cluster manager for strategic projects in UCT's Research Office, received) now increasingly offered by the NIH across the world?
Regina Smith James: These grants set out to help principal investigators develop a plan that will strengthen research administration at their institutions, so that they're better equipped to participate and engage in research, and are successful when competing for research support.
MP: What messages are you trying to get across at workshops such as this one in Cape Town?
RSJ: The bottom line is to ensure that the institutions and individuals are well aware of the policies, procedures and guidelines necessary to provide fiscal oversight and management of research support to allow engagement not only with the National Institutes of Health, but with any funding agency.
MP: Can one assume that the hiccups or problems the NIH experienced with funding management in the US were similar to what they've experienced elsewhere?
RSJ: We have had a domestic programme for 25 years that focused on strengthening research capacity at emerging research institutions, and within the past six years NIH has expanded this training opportunity to engage a more international focus, so we were used to the hiccups. I think the hiccups are universal, and that is just really understanding that, being involved in a research enterprise, it's very similar to a business. So therefore you not only have to conduct the science to address health needs, but also responsibly provide oversight and manage the finances received to promote the research. So you really have to understand the intricacies of that process.
MP: How did this iRIM exercise come about?
RSJ: This initiative came about to utilise the expertise of people like Wilna, who were trained by the NIH through the research administrator's grant (BRAD) to disseminate this information to other administrators and institutions in sub-Saharan Africa. The iRIM initiative, which is supported by the US President's Emergency Plan for AIDS Relief, was developed to provide additional support to another NIH initiative, the Medical Education Partnership Initiative (MEPI) managed by the Fogarty International Centre (FIC). Dr Letitia Robinson (who at the time was at FIC) and I developed a proposal that provided a comprehensive approach to strengthen research administration. With iRIM, the goal was two-fold. One, to provide research administrative support to institutions that received support for MEPI; and, two, to provide support to current NICHD grantees in sub-Saharan Africa, who were trained in research administration, to develop regional research administrator training workshops across sub-Saharan Africa, with the goal of sharing lessons learned and best practices.
MP: What did you hope to achieve at the workshop, and what are the delegates' concerns?
RSJ: We really wanted to go into detail regarding the role and importance of research administrators in providing financial oversight and successfully managing grants. The common questions have to do with funding opportunities, financial reporting, and who is responsible for what in managing the grants. And it's interesting to see that these are global issues, and really not specific to this workshop.
---
This work is licensed under a Creative Commons Attribution-NoDerivatives 4.0 International License.
Please view the republishing articles page for more information.
---