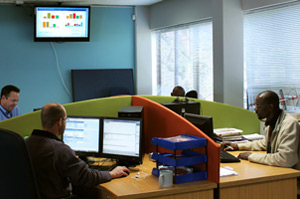 Display boards in the Technical Customer Support office show the status of the network and other services on campus.
UCT's ever-expanding community is made up of more than 20,000 people - located in over 100 buildings across the institution. It comes as no surprise, then, that providing email, internet and other essential technology services can be challenging in such a large and diverse environment.
Most of UCT's IT environment is managed and supported by the university's Information and Communication Technology Services department (ICTS). While the department's Helpdesk is often the first port of call when things go wrong, ICTS does more than just sit around waiting for problems to arise on campus.
With the 2007 adoption of ITIL - an internationally-renowned set of best practice principles - ICTS's approach to managing IT on campus has shifted monumentally in recent years. Moving away from a reactive approach that focused on solving problems after they'd occurred, ICTS is now far more proactive.
The introduction of strong, real-time management tools gives the department up-to-the-minute information about the health of IT on campus. Using IT management dashboards, ICTS monitors all IT equipment and services on campus - such as wireless connectivity, server status, and network throughput. In this way, the department often discovers technical problems before they impact users on a larger scale - making computing smoother and more efficient at UCT.
According to Technical Customer Support team leader Bruce Fielies, "The ICTS engineers are trained to proactively monitor and troubleshoot any kind of network-related problem. Their tasks are made much easier by the management and monitoring system - which helps us to provide quality support and ensure continuous operation of services."
Along with the improved monitoring systems, ICTS's problem management processes have also improved. The department now delves deeper into IT problems - analysing and solving issues from the root causes, rather than simply treating the symptoms and risking repeat incidents.
While making the department's Helpdesk more efficient, the dashboards also benefit ICTS on a strategic level - giving managers access to much quicker, more effective IT reporting. This makes it easier for them to address potentially troublesome trends, and also to find key areas where IT services could be enhanced.
The department also makes special efforts to go out and meet its users on campus - regularly conducting building visits where consultants listen to feedback from customers, inform them about ICTS products and services, and even help troubleshoot IT issues where possible.
In the end, the shift to a proactive approach has been essential for the university. Says Kira Chernotsky, ICT's Director of Customer Services, "It's not always possible to anticipate IT problems before they occur, but the benefits are obvious when we do: users experience less disruption and frustration, and they don't lose productivity. We know how dependent people are on IT, and it needs to run like a well-oiled machine. ICTS staff members really care about our strategy of enabling people, and being proactive is one of the key ways we try to give expression to that vision."
---
This work is licensed under a Creative Commons Attribution-NoDerivatives 4.0 International License.
Please view the republishing articles page for more information.
---