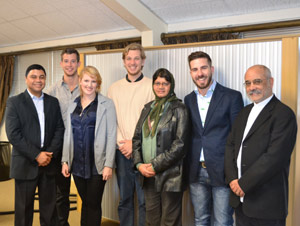 Tensional integrity: Prof Francis Petersen (Dean), Eric de Ridder (civil engineering), Astrid Gebhard (fine arts), Alexander Frehse (architecture), Sakena Parker (Murray and Roberts), Aleksandar Stojakovic (architecture) and Prof Crain Soudien (Deputy Vice-Chancellor).
It was a celebration of the work of UCT's engineering staff and students to combat HIV/AIDS-related problems on campus and in broader society.
UCT's Faculty of Engineering & the Built Environment (EBE) teamed up with the university's HIV/AIDS Institutional Co-ordination Unit (HAICU) on 1 October to honour the efforts of students and staff to stem the spread of the virus.
EBE students were challenged to design a sculpture that embodied the theme, Constructing an HIV/AIDS competent society, with prizes on offer for best design. The winning team, named Tensional Integrity after one of their design's core themes, earned the right to have their sculpture displayed in the new engineering building when the building is officially opened in 2013.
The group - comprising Erik de Ridder (civil engineering), Alexander Frehse (architecture), Astrid Gebhardt (fine arts) and Aleksandar Stojakovic (architecture) - also, won R5,000 prize money from construction firm Murray and Roberts.
"The sculpture unites a common language of expression in describing the affliction faced by South African society in the form of HIV and engineering structure, encapsulating the intimate relationship shared by science, engineering and humanity," explained the group in their project write-up. "It resolves that crisis does not discriminate, while stability requires that the HIV molecule dissolve into thin air and the ribbon of justice be returned to its natural position."
Professor Francis Petersen, dean of EBE, said the event highlighted three facets of the faculty's work: research, communication and curriculum-based aspects of anti-virus activism. "We operate as a technical faculty, so it is great to have a social dimension brought to the design" said Petersen. "Ultimately we would like to get the message across that staff and students should know their status."
Sianne Abrahams, project officer at HAICU, agreed with Petersen about the benefits of including HIV-awareness in the curriculum. "Students and staff see that HIV can be incorporated as a theme into core curricula objectives," she said. "Students that actively engaged in the work this year were motivated by the dynamic HIV education which was applied within their existing areas of study."
---
This work is licensed under a Creative Commons Attribution-NoDerivatives 4.0 International License.
Please view the republishing articles page for more information.
---