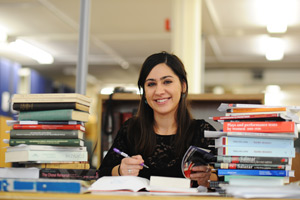 Anya Kohler is a cataloguing and metadata librarian - unanimously voted by Monday Paper staff as the eye-catchiest job title at UCT - in the Knowledge Access area, previously known as Bibliographic Access, in the Chancellor Oppenheimer Library. She is part of a team of 10 staffers, made up of four cataloguing and metadata librarians, three senior library assistants, two library assistants and one line manager. We asked her about her office life.
MP: What's an average day look like for you?
AK: A typical working day entails cataloguing library materials that have been ordered by UCT staff and students, or by UCT Library's Acquisitions department. We all (the four cataloguers) have specific subjects for which we do the cataloguing. For example, I catalogue the materials ordered for Italian, German, French, Spanish, classics, Portuguese, etcetera, while my colleague Andrea Hickman catalogues those materials ordered for chemistry, archaeology, astronomy, botany, law, and so forth. The other half of our job is providing metadata (in other words, information) for the library's various unique and local digital collections. Here, we work together with Library's Digitisation Unit - they provide us with the material which needs metadata. The metadata we add makes these unique collections findable and searchable, thus enabling anyone with Internet access to find and use the collection no matter where they are in the world.
MP: What are the fun bits of such a day?
AK: Being exposed to new things on a daily basis is probably the best part of the day, in my opinion. I love coming across new authors, new directors and new concepts, so working in cataloguing is perfect for somebody who loves learning new things. Sometimes we also have to watch the opening credits of the films/TV series which we're cataloguing, so that's also a nice part of the job.
MP: And the not so fun parts?
AK: Deadlines! We're constantly working towards deadlines, and this can be very stressful. Also, it can be frustrating to have to work with materials that we would rather be reading or watching. Cataloguing a book, for example, entails scanning it in order to get an accurate idea of the subject content so that we know exactly where on the library shelves it should go. Unfortunately, it does not entail reading it.
MP: Any funny experiences you can tell us about?
AK: Some of the material which we have to catalogue certainly makes us laugh! And then, of course, the number of stereotypical librarian jokes which seem to somehow find their way into our email inboxes...
---
This work is licensed under a Creative Commons Attribution-NoDerivatives 4.0 International License.
Please view the republishing articles page for more information.
---